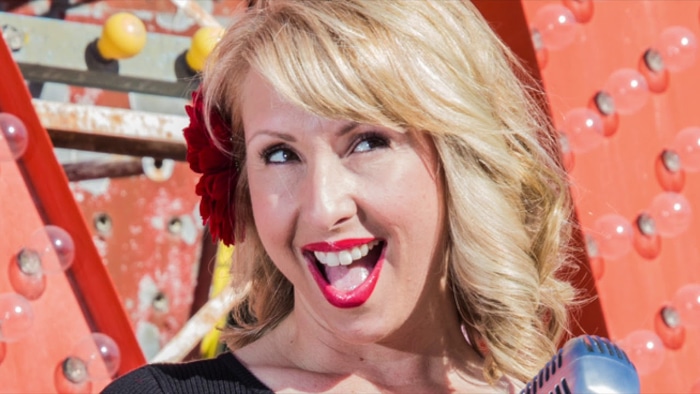 You definitely know Melissa Moats' voice. Melissa is blessed with a joyful outlook that shows through in her work as a voiceover actor and public speaker, and you may have heard her voicing promos for The Ellen Show, national TV commercials for Best Western Hotels, being the North American guide voice on the video game Wii Yoga, and narrating documentaries for superstars Justin Timberlake and Drake. Her business, Lady Luck Voiceovers, operates from her home in Las Vegas, where you may see her cruising the Strip in her pink Volkswagen Beetle. Melissa is a longtime Source-Connect user, and we thought it would be great to catch up and see what she's been up to. 
Peter: Everyone at the moment has to relearn ways of doing their job, but there's been a lot of remote working for years in the voiceover community pre-COVID in various forms.
Melissa: I do a fair amount of work that is self-recorded, unsupervised sessions, but my directed sessions used to be 50% ISDN and about 50% Source-Connect. But when COVID hit, lots of the producers were doing their work from home and now it seems like about 99.9% of my sessions have now become Source-Connect or just standard phone patch. I'm super glad that more producers who used to be a little bit more in love with their ISDN finally made the switch. So us voice actors appreciate it.
Peter: So what kind of studio setup do you have?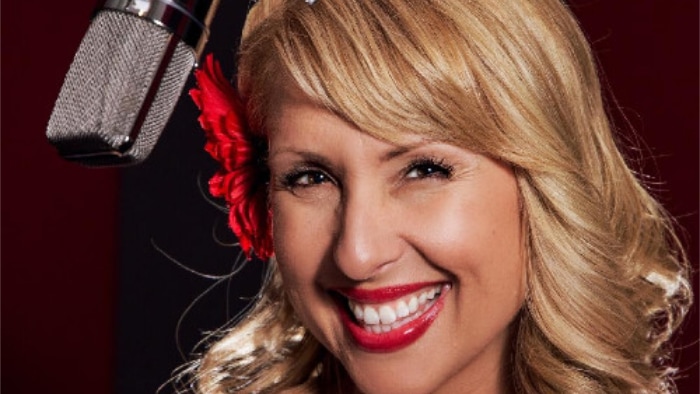 Melissa: In my home studio, I converted a 3-foot by 6-foot walk-in closet into my sound booth. It's fully sound treated and we actually bought a full glass door, kind of like an external door that you could install in your house if you have a patio or a porch or something, because I wanted to not feel like I was in a closet all day, and to have light. So we put this glass door in and it's awesome. And then as far as my gear goes, I am on a Neumann U87 for my mic and my preamp is an Avalon. I'm Mac based and I love Mac setups personally. I think they're so great for anything audio related and I'm in love with TwistedWave. That's my software, my DAW of choice. So that's more or less how I operate.
Peter: Yeah, I'm a guitar player and I've just got all my studio stuff shoved into one half of the room. One side of it is my wife's for doing all her graphic design and craft work, and then my side is my guitars and keyboards and drums and I won't even show it to you on camera because it's just a mess. What do they say… 'be ordered in your life so you can be chaotic in your art'. Or maybe it's 'be chaotic in your life so you can be ordered in your art.' I dunno, either way, I'm doing it wrong!
Melissa: Peter. It is your creative storm over there. That's what that is. I guess there's benefits to both!
Peter: That's what I'll tell myself! So I've wanted to talk to someone who works in the entertainment industry about living in Vegas for a while, because years ago I saw an interview on TV with The Killers and the interview was making a big deal about like, 'You guys live in Vegas, no one lives in Vegas! It's just for going on holiday!' But of course people live in Vegas and it's gotta have its own creative scene as well as being 'Vegas.'
Melissa: Yeah. I love it here. We've been here for about 20 years and it's funny you say that because the first time my mom came to visit, she was like, 'Oh my gosh, you have banks here! And Target and grocery stores!' And I was like, 'Yeah, Mom, there's more than the Strip here!' But I love it here, and probably my favorite thing about living in Vegas is it's the best of both worlds. We have this nice master-planned community suburbia, right? Like it's so easy to live here. The cost of living is nice. There's beautiful homes. And so many of the homes are so new and I appreciate that. But then on the other side of the coin, it's the entertainment capital of the world, so we have fine dining and we have amazing shows and we get some of the best concerts. And now we have the Raiders stadium which was just completed. So you can have as much action and nightlife and fun as you want, but then if you decide you want to be a little more 'quiet suburbia,' you have that option too. So, but I love it.
Peter: So tell me a little bit more about your speaking work on the convention scene.
Melissa: Well, I do a lot of live announcer work, but during COVID times there haven't been the amount of conventions and conferences at all. And I used to be a cruise director, so I'm not shy about being in front of audiences and reading copy, but a lot of tech companies invite me to come in and do their live announced stuff and it's a rush! It's fun because you get up and you gotta be like good on your feet and just go for it.
Peter: When did you get started? Because my son is 14 and he loves doing voiceover stuff. He collaborates on little videos with his friends, and it's kind of cute to see him getting into this already.
Melissa: I think that's so cool. At our studio we mentor a lot of teens and you know, I think our youngest student is seven and our oldest is 85. So I wish I would have gotten started sooner. Good for your son that he's doing it! I got started in my early twenties and I wished I had gotten some training, but honestly I didn't really know how to go about it as a kid. You know, I just knew I loved commercials and certain things I just had an ear for. And I was like, 'Someday, I'm going to figure that out.' So that's kind of how it worked for me. Yeah.
Peter: What were your early bookings like?
Melissa: A lot of commercial, and I did a fair share of video games. And that was a lot of fun, but what I learned early on for myself is, we all have different limitations with our voices I had to kind of pick and choose, like if I wanted to keep my voice really clean for commercial, then I really couldn't do the video game stuff because it was a little too demanding for my pipes. Because they really want you to like just, you know, die, get stabbed, get thrown off a cliff, get burned alive, things that just really are hard on the voice for me, as much as I love doing it, so I had to just kind of pick and choose. And early on it was very clear to me that I loved commercial work and it was something I was pretty solid at. So I really stuck with that.
Peter: Listening to the demos on your site, your voice is so familiar and there's this hint of joy that you put into it that just connects.
Melissa: I think for voice actors, it's all about connecting on an emotional level. And for me personally, everyone who knows me always gives me a hard time that I'm the eternal optimist, always smiling. I can't help it. You can hear the smile in my voice! But I think infusing  genuine joy and genuine optimism into your reads is something the listener can really feel especially in those little 30 second stories that we get to tell when we're doing commercials.
Peter: Well that looks like our time up, but this has been a really fun chat!
Melissa: Thank you! It's been fun! I just want to say I really appreciate Source-Connect and it's an awesome tool. And I think that they're making voice actor's lives easier. And especially during the pandemic, I don't think we all could have gotten along and done as well as we all did with our careers without it!
Peter: Thanks so much for your time today. It's been really fun getting to know your and your work – and to put a face to the voice!
Melissa: My pleasure! Talk soon!