Here is Marabina Jaimes answering our questions today: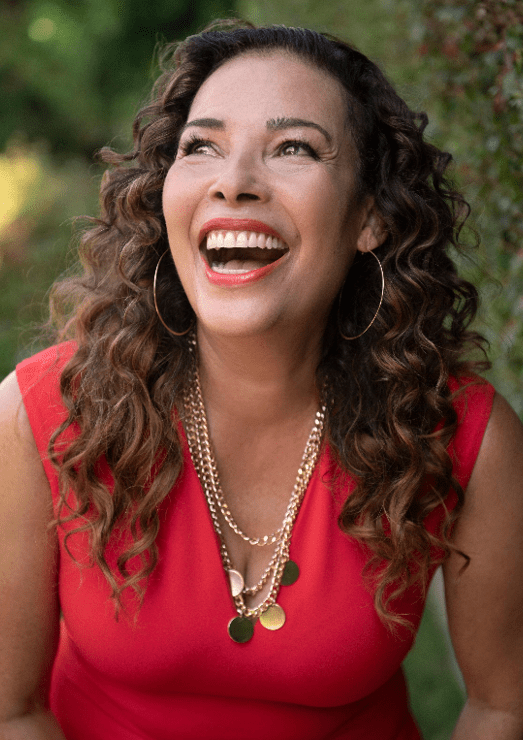 Let's start with some ice breaking quick questions
– What's your favorite place on earth?
Wait…you are starting off with a Challenge!  I love Puerto Rico…but also Mexico, DF…but also Barcelona…and who doesn't love London…I can't have a favorite!!!
– Mac or PC user?
MAC, Baby!
– What was the last software or hardware you purchased?
…yet another, external drive!  Will probably be switching out my Mac book Pro soon
– What's your favorite Digital Audio Workstation for editing sound?
Twisted Wave and Audacity
– What is the last movie/series you loved?
* "Not Dead Yet" (Gina Rodriguez) – (had a fun remote session with the creators) crossing my fingers that this show with a Latina Lead survives past 6 episodes…
* Babylon – what an amazing project, and loved Diego Calva!
– Who are your top 3 favorite music bands or singers?
*Love Grammy Winner Silvana Estrada (LOS DIAS!)
*Just saw Elton John's – "Goodbye Yellow Brick Road" Concert from Dodger Stadium – don't miss it on DisneyPLus
*I always find time to break out the Queens that have guided me through life:  Celia Cruz, Barbra Streisand,  and Aretha Franklin
– Who's the most famous person you've met? 
Famous people I've met:  Little Richard, Kirk Douglas, and Ruben Blades when I Hosted "Storytime" on PBS.  Ruben Blades has to be the kindest person in the world – and what a versatile artist.  Lo admiro!
– Imagine if you could meet a person you wish, who would that be??
I would have loved to meet Stephen Sondheim.  "No One Is Alone" from Into The Woods changed me.  Love his music and lyrics 
– What does a normal day in your life look like?
6:00am -7:00am – Lemon water, Shower, Protein Shake, Chanting (NamMyohoRengeKyo)in Appreciation.
I take a few minutes to go through my list of tasks
(every Sunday night I make a list of the things I want to accomplish that week – this includes sending my IMDB Page, On Cam, Hosting,  and VO Reels to Casting Directors and Directors, and writing new copy for my Voice Over Students.)
7:00-8:00 Pilates or Brisk Walk
8:00-8:45 Email Check #1
9:00 Ready for work!  On a good day it will be a remote session, Directing ADR for HULU's "This Fool" or doing ADR for shows like "Acapulco", "Lincoln Lawyer", etc.  Or it might be going to a studio like Dubbing Brothers or Westwind to dub another series for @Netflix, like #NoFilter or "High Heat". 
1:00 – Email Check #2 – another audition or booking, YES! 
5:00pm Once or twice a week, I teach a virtual Voice Over class for www.AcademiadelaVoz.com in English or Spanish, or both! (We've taught 15 seasons to date). Or organize an interview with Voice Over Casting Directors, VO Actors,  or Union Reps to address our VO Students.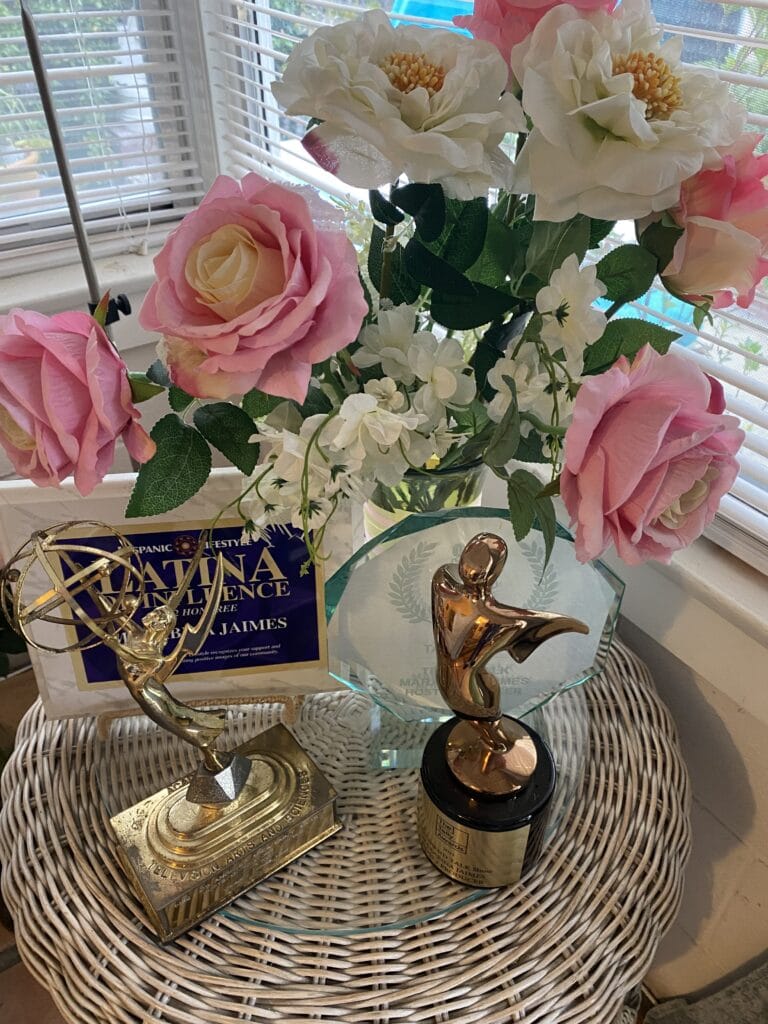 Career Path & Insights
– Please, tell us A LOT about yourself! 
I'm a Mexi-Rican – got the East Coast / West Coast thing going and very proud to be bilingual and bicultural. Raised speaking both English and Spanish, it cracks me up when people compliment me on my English! 
I love to read, sing, perform on Stage, TV, Film, and behind a Mic!  Those Emmy, Telly, and Omni Awards didn't win themselves – I've been blessed and live in a constant state of Gratitude.  Proud to have been named a "Latina of Influence" 2022 by Hispanic Lifestyle Magazine.  
My most important production of all time is my amazing son Jasper Rey, who just turned 21. A classical pianist studying Applied Math. I'm a proud Trojan Mom! Go, USC!
– How and when did you start and how did you start as a VO in the industry?
I'm the product of a Magician's Assistant and a Latin Jazz Pianist, so being in the business was more a tradition than a choice.  My education came by DOING… and being mentored by beautiful spirits who understood the power of music, communication, and joy!  I've been doing Voice Over since I was…an embryo.  I'm grateful to my parents, Maria Albina Lopez and Reynaldo Davila (RIP).
– Tell us about your education, training, certifications, mentors, clients, importance of union/non union, agents, …
I started doing Voice Over as a child, I then was introduced to Dubbing and worked on many Spanish versions of cartoons (My Little Pony, Jem, to name a few).  I studied with Jaime Jaimes from Argentina via Paris (RIP) at what was then "El Teatro de la Unidad" at the Los Angeles Actors Theater and KPFK Radio, and won several Acting Awards, while I was also attending LACC.
I then went on to dubbing projects in English (Sonia Braga – Lady on the Bus, I love You, Dona Flora, etc) and then was lucky enough to work with Super Loopers, (ED and Linda Cook, RIP) doing ADR for hundreds of TV shows and Films.  I got a great opportunity to Host "STORYTIME" on PBS with KINO (Mark Ritz, RIP), and ended up  winning my first Emmy for Hosting.  ç
I had a run on the soap Santa Barbara, and worked at the Taper in Luis Valdez's "Bandido" with A. Martinez. I toured for 10 years in Luis Avalos' (RIP) "Paquito's Christmas" Musical, reaching the Kennedy Center Stage and an Imagen Award.  I was also 'Carmen' in Klasky-Csupo's "Santo Bugito" on CBS with amazing Tony Plana, Charlie Adler, and Candi Milo.  I have worked and learned from the best in the business and I am grateful!
I dubbed DESPERATE HOUSEWIVES in Spanish (Mary Alice) for the whole 8 year run, leading to the documentary I narrate and am highlighted in NOW EN ESPAÑOL (PBS) by Andrea Meller.   Marcia Hurwitz, was a game-changing agent for me for over 20 years at Innovative Artists.  I am now with Liz Klausner at @KMRTalent. Union?  Only way to go.
– Why did you decide to start in the VO industry?
Although I kind of fell into it, Voice Over is an industry that allows so much more possibility…if you are willing to learn, keep your vocal chops up,  and are versatile…and curious…you can build a career!  I also love the different genres – narration, animation, videogames, dubbing, looping…every flower has its beauty! 
– What keeps your motivation up in the business?
Gratitude!  For those who I learn from…and to myself, for following through with the "secret of success".  You know what the "secret of success" is?  To follow through with the things you sometimes don't feel like doing (Mel Robbins)!  Creating your own opportunities, networking, taking classes, reaching out to people you admire, being in a constant attitude to learn.
– Could you tell us some of the projects you enjoyed the most? Your outstanding project or client!
"HIGH HEAT" on @Netflix – (39 Episodes) Dubbing Mexican Star Itati Cantoral in English in this unique Mexican Series, directed by amazing French Dubbing Director Bernadette Colomine.
"PARABOLA"- starring "Gentefied"'s Annie Gonzalez for Sonoro Global, cast by Zuleika DeCiga.  One of the first projects I did during the 2020 Pandemic in my Home Studio with Source Connect!  Loved that the Producer was in Mexico, the Director in Texas, and another actor in New York.  So cool!
"Loops" for @Audible cast by Artios Winner, Carla Hool.
– Tell us about la Academia de la Voz, what is it, when does it start and how did you get started there, their students… anything you want to tell us!
During the 2020 Pandemic, I remember asking the Universe "…now what?" when everything was shutting down and nobody was going outside, let alone working!  I asked, and the first answer was that I would Co-Host/and Co-Produce "@TheTrendTalkShow" with my friend Bel Hernandez (Latin Heat) virtually – we interviewed over 100 Latino Creatives and ended up winning both a TELLY and Omni Culture Award!  The second answer – I was invited by producer Dantonio Alvarez (All Rise, This Fool), and his father Tito Alvarez (a legend in Spanish Voice Over) to join them and write the curriculum for www.AcademiaDeLaVoz.com – the only Virtual Bilingual Voice Over Academy – that is accredited – in the US. 
To date, we have trained 15 seasons of Bilingual VO Actors leading them through all the VO genres – from commercials to animation to audiobooks – training them as well in basic editing and Home Studio Set up (encouraging Source-Connect, of course!) and curating their Bilingual Demos.  Interviewing other Bilingual VO Actors, Casting Directors, and Union Reps, has been a huge pleasure and remains a  part of the library exclusively available to our students.  Let me just say "thank you" again to so many wonderful talents from several parts of the world who believe in what we are doing and who have encouraged our students!  And a big shout out to Academia De La Voz Students and Allies for celebrating Voiceover! 
– Can you also tell us your current personal projects you have at the moment that you can tell?
I just completed this funny series from Brazil, #NoFILTER (NETFLIX) (#SemFiltro) dubbing hilarious @FlaviaGReis in English, directed by awesome Grant George for Dubbing Bros.
I recently completed the English dub for THE GOOD MOTHERS for DisneyPlus (2023 WINNER, BERLINALE AWARD, Best Drama), and the English dub of THE PATIENTS OF DR. GARCIA, working with Spanish Director, Miguel Cruz.
I have helped to produce several shorts that are making the Festival rounds:  "Together Alone" by Jolene Kim, "Inland Empire" by Renee Vaca.
Isn't everyone working on a One Person Show? Me too!
I'm excited to share that I'm newly signed on both coasts by @KMRTALENT for OnCam Commercials (Valorie Chiovetti and Jaime Hernandez) and Voice Over (Liz Klausner)! Let's Go!!!!
– What are the biggest challenges you are facing as a VO at the moment?
I continue to try to create my own opportunities – as the Buddhists say, "…the struggle is not with the outside world…it is an internal fight with yourself."  Creators need to create…performers need to perform.  Find. A. Way.
– Which part of your job do you most enjoy?
There is such fulfillment in performing and perfecting your craft…let alone being compensated well for what you do.
But there is also something magical about sharing the little knowledge or talent you have with others,  and witnessing those performers blossom.  I really enjoy teaching Voice Over, and in my small way, I think I'm helping to level the playing field.  Bilingual talent is not lacking, but good Bilingual training is.  I'm happy to know that there are more bilingual ads, podcasts, commercials, TV Series, and Film projects than ever before; looks like there is finally, a shift!
– Can you tell us some of your future projects?
Looking forward to Directing ADR for season 2 of THIS FOOL – voted one of the best series of 2022! I'm also setting my intention for a mega Commercial campaign, and another Emmy Worthy project….fingers crossed!
Home Studio for remote recording – Let's get nerdy about techie stuff!
– Do you have your own studio?
YES
– When did you start building up your studio and how did it grow?
2020 Pandemic. Necessity is the Mother of Invention.  I was challenged and had to learn a lot more technology than I was used to; oh, but what a blessing!  #QuererEsPoder #WhereTheresAWillTheresAWay!
– Could you tell us what setup, tech & hardware it consists of?
NEUMANN TLM 103, Audient i14, MacBookPro, Twisted Wave, Audacity, Source-Connect.  
Converted my Laundry Room into a Booth, with extra thick doors and weather stripping.  Regarding doing my laundry, yes I have to go out, but its a win-win – I signed up at a Gym across from a Laundromat!  
2nd Set Up:  SHURE 187, Scarlett Focurite
– What are your favorite places to record?
Of course, I do prefer going to studios and interacting LIVE with PEOPLE…I'm a very social person!  But I'm so grateful I never stopped working during the whole Pandemic because of my ability to record from home!
– Which kind of services do you offer with your studio?
Recordings of Commercials, Animation, Dubbing, ADR/Looping, Remote ADR Directing (I have a pool of Bilingual VO Actors with Source-Connect Home Studios)
– How do you record when you travel?
My set up is totally portable!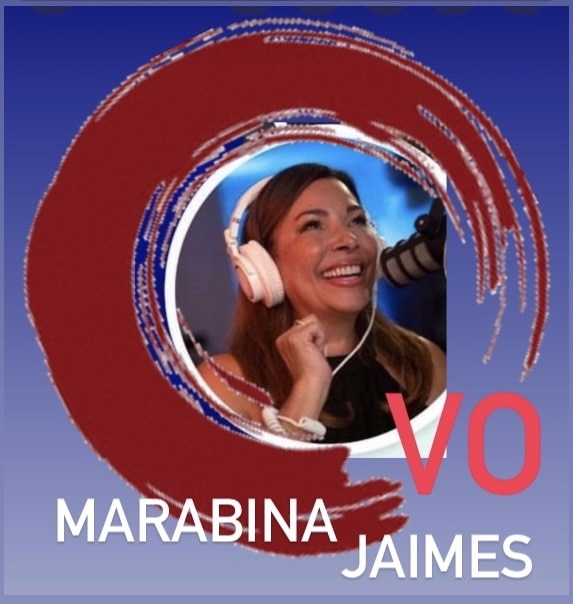 Remote working with Source-Connect
– What percentage of your work is remote now and in the studio?
Now (March 2023), I'd say its about 30% Remote, 70% In Studio.
– Do you record with studios outside the USA? 
Yes, I have worked with studios in New York, Mexico, and have done interviews from London and Argentina.
– When did you start with Source-Connect? 
2020 Pandemic
– Why did you decide to start with Source-Connect? How was your beginning with remote recording sessions?
If you follow the Pros – specifically George Whittam and VO Body Shop – you do what the Pros do! 
I remember discussing Source-Connect with several of my girlfriends in VO and we were laughing until we were crying about all of these changes – and asking ourselves if we could really manage it.  I'm happy to say, #LoLogramos!!!! #WeDidIt!  
– What has been your favorite recording session with Source-Connect? Could you tell us some of the benefits of having remote collaboration tools?
Recording Commercials, Jingles, ADR, Looping Sessions, Podcasts, or conducting Interviews with people in New York, Texas, Hawaii, Seattle, England, Argentina, Spain, Colombia, or Mexico…is such a blast!  
– What is your favorite thing about remote recording?
When the commute time is 5 minutes from your bedroom to home studio…you really have time to smell the roses!  
– Are remote collaboration tools here to stay?
I'm good with that!
– What benefits brought to your career the remote tools?
Less time spent on commuting,more time spent on creating.  Also, cool to be able to rely on your own backup recording,just in case!
– Since you are bilingual, what percentage of jobs do you do remotely in different languages?
I work mostly in English, but I'd say its a 60/40 split.  But don't get me wrong – I love both languages!
– How did remote collaboration tools offer you international development opportunities?
Source-Connect gives the client an added confidence, that's why today if you say you are a VO Actor, the client expects you to prove you're a Pro by having Source-Connect.
– What challenges have you faced when working remotely?
The silliest one is the right TIME!!
– Which are the places or countries you mostly record to/from?
LOS ANGELES / NEW YORK /TEXAS
– How did you learn about remote recording tools and online collaboration?
VO BODY SHOP, AGENTS, OTHER PROS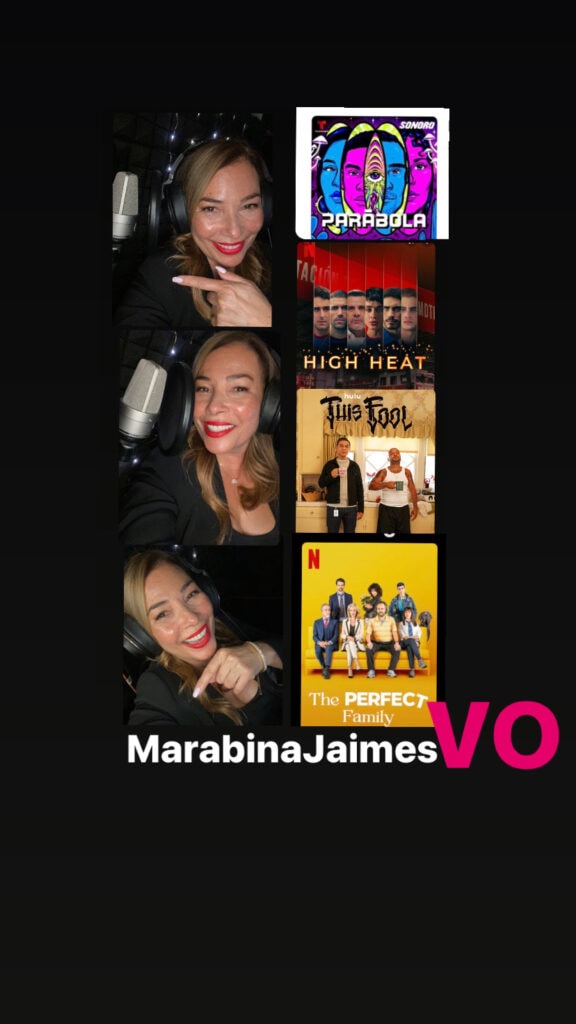 Industry, Diversity, Equity and Inclusion
– How would you describe the VO industry? And more specifically, tell us about your experience in the industry
EVER GROWING!  EVER CHANGING!  THIS PANDEMIC HAS REALLY HELPED US ALL TO REALIZE WE ALL WANT THE SAME THING – TO BE CREATIVE, PROSPEROUS, AND HAPPY.  
– What are the things you love the most and the things you would like to change in the industry.
*THE INCREDIBLE TALENTS AND GAME CHANGERS THAT SHINE A LIGHT FOR US ALL.
**THE SCAREDY CATS WHO DON'T WANT ANYONE ELSE TO GET A SHOT.
– Do you think there is something specific in the bilingual VO industry? Could you tell us more about this?
MY ONE PET PEEVE IS CASTING DIRECTORS EXPECTING ACTORS TO TRANSLATE THEIR OWN MATERIAL IN AN AUDITION,OR A CLIENT HIRING SOMEONE UNQUALIFIED TO TRANSLATE.
CASE IN POINT: 
THE KMART MOTHER'S DAY OUTDOOR FURNITURE AD OF 2020
IN ENGLISH:  NAMASTE, IN SPANISH:  MAMASTE
GOOGLE IT!
– How is the VO community around you? Do you belong to any platform, community or group?
SAG-AFTRA – I'VE SAT ON THE VO COMMITTEES AND HAVE BEEN ON THE SAG EnEspanol Podcast, I'm a Voting Member of the TELEVISION ACADEMY and part of the Performers Governors Executive Committee, SOVAS Judge.  
– Which congresses, events or festivals have you been participating in? Which one do you recommend?
JOINING SOVAS AND ATAS, AND TUNING INTO THE SAG/AFTRA FOUNDATION FOR FREE CLASSES, WORKSHOPS, AND TALKS.
– What's your perspective on diversity, equity and inclusion in the industry at the moment?
Inclusion/Equity/Diversity  has less to do with color or mate preference and more to do with PROTECTING everyone's right to get the chance to make a decent living.  Little by little, this is becoming clearer…and more profitable.  
– What's the future of the industry looking like from your perspective?
Very Bright!
Advices to other VO artists/people in the industry 
– Since you have been in the industry for many years, could you describe what has been the changes you've noticed? Positive and not so positive as well!
I love being able to audition/record spots in both languages!  The call for authenticity is being answered!
– For someone who is starting their career at your age, what kind of advice would you give them for auditions, unions, agents, platforms, conferences..
1. Train with a "working" Coach; if you are Bilingual, I personally invite you to join me for a FREE Intro; sign up at www.AcademiaDeLaVoz.com (USE CODE SourceConnect2023)
2.Know what you want – Style, Genre (Commercials, Animation, Video Games, Audiobooks, etc)
3.Be Curious / Be Versatile / Be able to deliver
4.Get Techy!  Today, a VO Actor is everything:  Talent, Director, Engineer, Music Producer, Editor, Social Media Manager, etc…
5.STUDY the best VO Actors, their DEMOS, and their HABITS.
6.FIND A MENTOR.  ASK.  ASK.  ASK.  MOST TALENTED PEOPLE LOVE TO SHARE WHAT THEY KNOW. 
– Voice over career is not only about having an incredible voice, it is also a lot about personal branding, marketing, networking..what do you have to say on this?
FOLLOW KAT COROY
– Who have you found useful to watch or to learn from?
SO MANY I'VE WORKED WITH!  Michelle Ruffo for Babies!  Bob Bergen, Candi Milo, Cam Clarke, and Charlie Adler for Animation.  Lex Lang for Video Games.  Mela Lee for Anime. …and so many more! 
– What advice would you pass on to someone who's trying this sort of remote workflow out for the first time?
BE PATIENT AND KEEP LEARNING!
– What would you say is your recipe for success?
 My favorite quote by D. Ikeda:
"REAL HAPPINESS IS NOT THE ABSENCE OF PROBLEMS, BUT THE ABSOLUTE CONFIDENCE THAT ANY PROBLEM CAN BE SOLVED."
– What would be the thing you would most like our listeners to take away from this interview?
THIS IS THE BEST MOMENT IN TIME TO FOLLOW THROUGH WITH YOUR GOD GIVEN TALENTS!  GO GET IT!  AND PLEASE REMEMBER, THE VOICE HAS SUCH POWER…CHOOSE YOUR WORDS WISELY, ESPECIALLY WHEN TALKING TO YOURSELF!
Don't forget to say goodbye! Is there anything else you would like to share with our readers? 
I'd love to collaborate with other Source Connect Users; drop me a line!
Kike, I appreciate you and Maria Camila visiting www.AcademiaDeLaVoz.com and sharing with our students internationally!  You and Source Connect are making so many dreams come true.  #MilGracias!  What a blessing!!!!
THANK YOU SO MUCH FOR THIS OPPORTUNITY TO SHARE!  Let's be friends:
@MarabinaJaimes
More about Marabina Jaimes