Here is The VO Studio answering our questions today: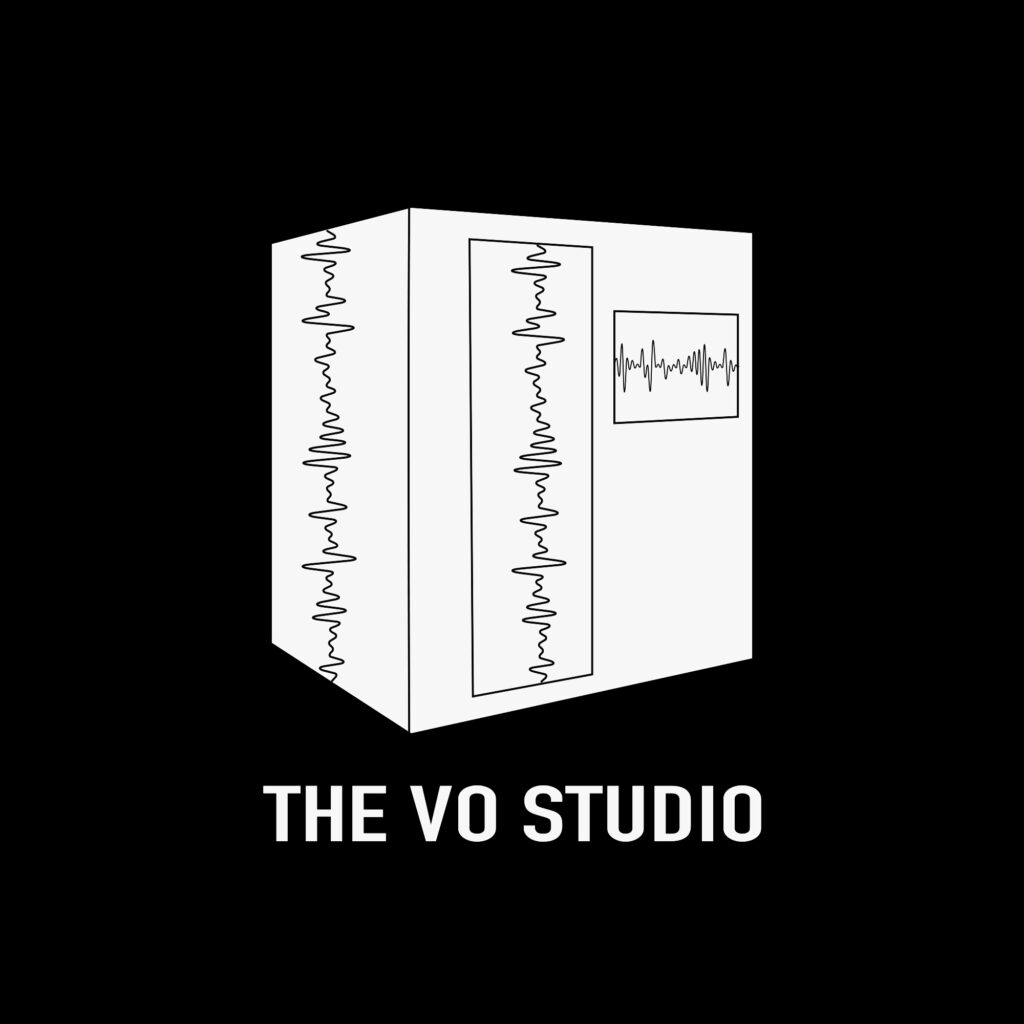 Let's start with some ice breaking quick questions
– What was the last software or hardware you purchased?
Another Vintage Neve 1073! Or my Vintage U47.
– Mac or PC user?
MAC Studio Ultra.
– What are your top 3 favorite music bands or singers?
Ooooh that's like saying who do you like better? Your mom or dad! But three top all time? Chris Cornell, Beatles, Beastie Boys!
– Imagine if you could meet a person you wish, who would that be??
Robin Williams
– What's your favorite Digital Audio Workstation for editing sound?
For VO is most definitely Audition. Twisted Wave on the go or the road is great too!
– What is the scariest thing you've ever done?
Open water dive with Tiger, Black tip, White tip and Hammerhead sharks… On the same dive! Or get mugged at gunpoint in Mexico City lol. Highly do not recommend the latter.
– What are your top 3 favorite music bands?
I'll add three more – Sublime, Pearl jam, Bob Marley.
– Top actors instead?
Brando, Paul Newman, Hopkins and Duvall.
– If you could give one million dollars to one charity, which one would you choose?
Animal Rescue shelters.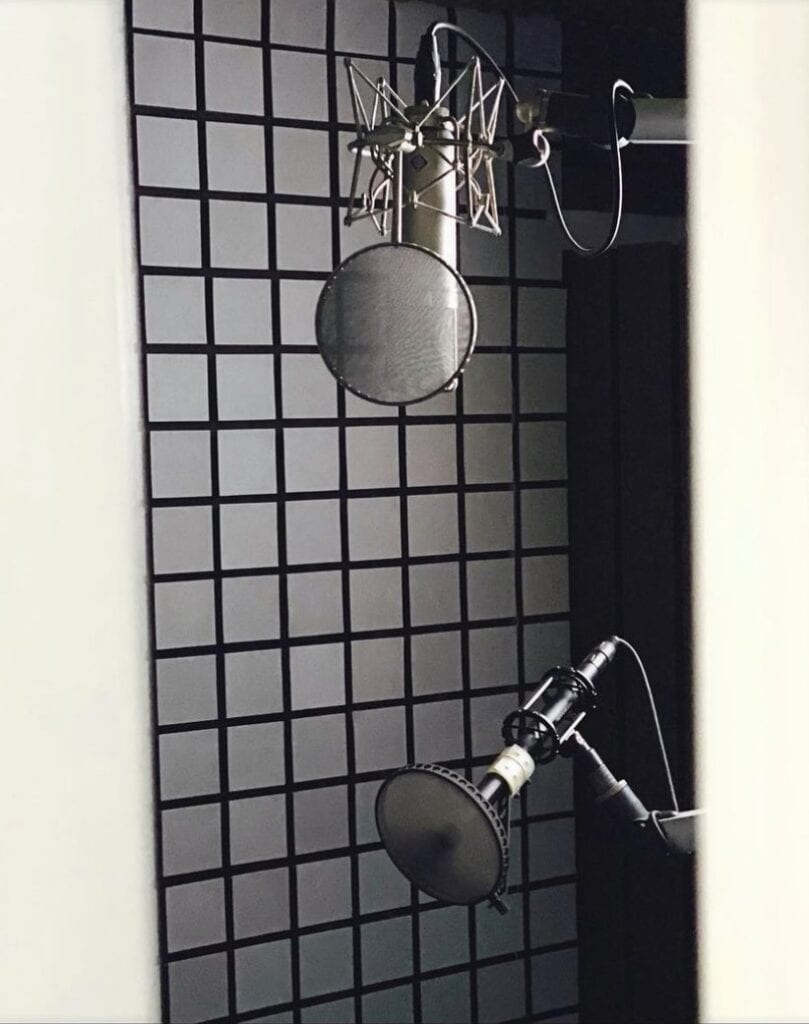 Career Path & Insights
– Please, tell us a little bit about yourself! (Name, age, Where are you based, hobbies, education, aside education from VO..)
I am a late 40's North American award winning Engineer, Actor, Director, Producer, Writer and VO! Ads, Film, TV, Video Games, Cartoons etc for over 30 years. Run my own agency as well. Work with clients globally and have representation all over the world.
– Why did you decide to start in the VO industry?
An agent at my agency in 1995 asked me if I wanted to try VO. I said sure and never looked back. Had my own radio show at 15 years of age at my college station too. Started doing walla in 1995 as well. 
– Current projects you have at the moment that you can tell.
Just finished multiple TV spots for Amazon, worked with Marvel and did a bunch of characters in a huge video game franchise. All freelance or via agents. All using SC Standard.
– What are the biggest challenges you are facing as a VO at the moment?
Budgets? AI? Usage!? – All problems other VO's face every day. Oh – and having the time to run the business side of this crazy business properly, efficiently and leaving the clients wanting more…
– Do you have one or more people in mind who have helped you, or guided you, on this journey? How did these people help you?
If we are talking another talent? My old pal David Kaye. Watching his career explode because of his work ethic, drive, talent and amazingly humble nature. It really taught me do do the work, do good work, invest in yourself and be a great human!
Engineer? I also have a good friend who is one of the most knowledgeable studio owners/engineers in the world. He has spent years sourcing and testing the best vintage rack gear with me on my voice. Allowing me to shape and build the best studio for my voice possible. He's the one that has helped me more than anyone, and I can not thank him enough. He's the biggest influence for me and the studio build for sure!
– What attributes does someone need to have in order to be really successful in this career?
Drive, thick skin, tenacity AND talent. All while being someone clients want to work with again and again. AND being able to handle all the things that come with running your own business 80 hours a week.
– Which has been more valuable in your career, your education or your experience?
BOTH! You have to do the work. Training and classes are insanely important… If you are looking for some, go check out "Real Voice LA". HOWEVER, nothing can prepare you for crazy things that can happen in a session. Just be prepared, trust yourself, your talent and do good work.
– What professional associations are you a member of?
Three different unions/guilds for both in front and behind the camera. 
– What would you do differently if you could go back in time?
Spend less time writing, producing and directing commercials and more time being a VO talent. 
– How do you make decisions at work? What is your process?
Having been a producer for almost 30 years, I just adapt on the fly. Trying to deliver on time, on budget.
Home Studio for remote recording – Let's get nerdy about techie stuff!
– Do you have your own studio?
I sure do!
– When did you start building up your studio and how did it grow?
I started building my own studio in 2015. All because we kept hiring other studios to record our spots and I said to myself… "Why don't we just build our own studio  and pump our own workflow through our own studio?"
– Could you tell us what setup, tech & hardware it consists of?
Studiobricks custom designed 7.5×6.5ft booth with Vicoustic treatment, extra bass traps. 
Yellowtec Mika setup with monitor stand & two mic arms.
Custom designed and built desk for inside the booth.
Mac Studio Ultra. Two Samsung curved 34" monitors at workstation and one more in the booth.
Vintage U47, 40th Anniversary U87, and a couple 416's
Pre's are Vintage Neve 1073. Avalon 737sp. Millennia HV37, Summit tpa 200b and much, much more. We pride ourselves on rack gear only. Most of it is vintage from the 70's -2000's! We aspire to be a plugin free zone but shoutout to Izotope for saving my life sometimes!
Custom built xlr patch bay to change mics or pre's on the fly.
Apogee – Who's products have never let me down unlike some other brands – for interface.
– How did you build it?
Hours. Turned into days, which turned into years of testing, reading, researching and buying gear from all over the world.
– Which kind of interface, DAW, setup, mic, headphones, speakers…
DAW's are Protools, but mostly Audition.
Apogee interface.
Mic's are above.
Headphones Audio Technica ATH-M50X's & BeyerDynamic dt770's
Speakers- Yamaha HS80M's and Meyer HD-1's are coming soon. 🙂
– What are your favorite places to record?
My studio. But walking into a studio on a lot in LA and feeling the history of knowing that your idols, legends, have been there, in the same booth, recording where you are standing right now, is also special.
– Which kind of services do you offer with your studio?
VO Record, ADR record, Edit/FX/Mix/Master etc. But we are unique in the sense that we write, produce, direct, record, mix, master and voice work for clients all over the world. We do pre-lay for animation and a bunch of other stuff as well. We work from concept to delivery.
– Do you record outside your studio?
I go to other studios all the time.
– How do you record when you travel?
Book an amazing local studio with exceptional gear and a proven track record, or with my MacBook Pro and a 416 via apogee interface. 🙂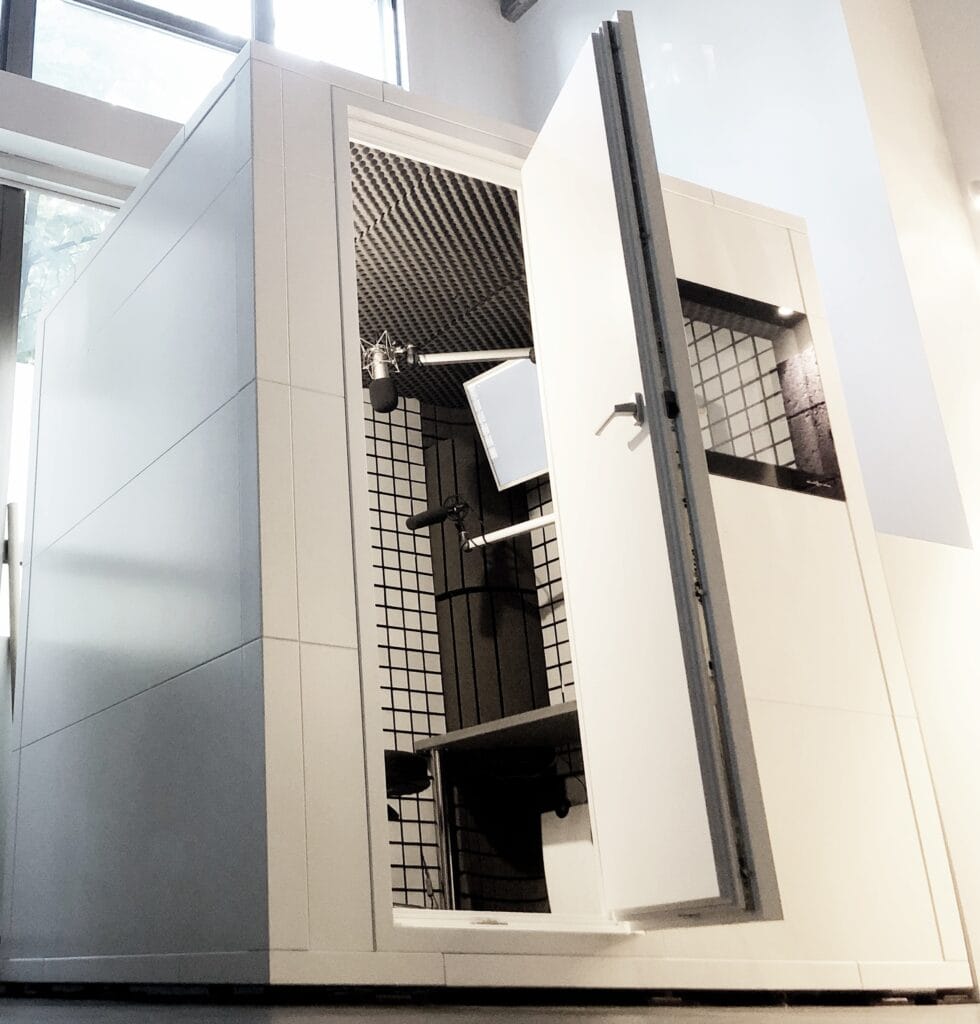 Remote working with Source-Connect
– What percentage of your work is remote now and in the studio?
90% of all VO work that I do is remote now.
– When did you start with Source-Connect?
I think I bought it in 2016 but not sure. But I was using it in studios for years before that.
– Why did you decide to start with Source-Connect?
To work remotely – Before covid – As I saw the industry shifting to a remote working model as the tech was getting better and better every day.
– How was your beginning with remote recording sessions?
A little bit of a learning curve but smooth sailing since! All thanks to the amazing support team at Source Elements. Especially Robert. That man is a ninja and the best! I can not thank him enough.
– What has been your favorite recording session with Source-Connect?
One of my fave's was doing 11 different characters in a massive video game franchise with another studio literally on the other side of the planet. In 37 minutes! Insane!
– Could you tell us some of the benefits of having remote collaboration tools? Tell us a lot!
You can literally walk into your booth in your underwear and record anything for any project anywhere in the world. I recommend showering, warming up and maybe getting dressed first.
– What is your favorite thing about remote recording?
It opens you up to a world of possibilities.
– Are remote collaboration tools here to stay?
Remote collaboration tools are not only here to stay. They will just get better and better. It pretty much is the norm now.
– What benefits brought to your career the remote tools?
Remote tools not only save me travel time and money, but think about this day I had recently… Spot in Dubai in the morning, another project in London later on that morning, A project out of New York and then another, to finish the day, on the west coast. This would not have been possible even ten years ago. You would have to hire a studio with a costly ISDN connection and do everything in that studio the same day. Not from the comfort of your own home, in your shorts. 🙂
– What challenges have you faced when working remotely?
I miss seeing other talents at auditions. Also the  engineers and studio folks. Just don't get to hang as much as we used too. I miss that camaraderie.
– Which are the places or countries you mostly record to/from?
Mostly all over the USA & England. But we work global.
– How did you learn about remote recording tools and online collaboration?
Form booking gigs and being in other studios using Source-Connect many moons ago. Trying to think… Maybe as far back as the early 2010's? When did SC actually come out?
Industry, Diversity, Equity and Inclusion
– How would you describe the media industry? And more specifically, tell us about your experience in the industry
There is something about VO that is different from every other aspect of this business. Where else will you spend most of your day in the confines of a padded room, by yourself, trusting only your instincts. Some may call it insanity, I call it a dream job. Most other aspects of this business put you in a team environment. VO is like that too, but it really comes down to the work. And that work is done by you, and you alone.
– Would you like to change the industry? If so, what would you change?
I really would hope that the unions would better educate themselves on the current state of VO and catch up. Because I feel like the train is leaving the station and has established a dangerous precedent. Really though, said train may have already left said station… And AI can go away please and thank you very much! But that ain't happening, so strap in, adapt, or fade away.
– How is the VO community around you? Do you belong to any platform, community or group?
My little VO community is amazing. I am so fortunate to not only have other working VO's that support and help me daily, we support and help each other. I also mentor a few people. Nice to see them having great success.
– Which congresses, events or festivals have you been participating in? Which one do you recommend?
For VO? None! I have never been to a conference like VO Atlanta.  But for Producing I have been and participated in the best all over the world. Cannes, Toronto, AFM, SXSW, Sundance etc.  
– What's your perspective on diversity, equity and inclusion in the industry at the moment?
It's about damn time!
– What's the future of the industry looking like from your perspective?
The short term future of the industry as a whole is kinda bleak with impending strikes and our current economic climate. The long term future? Well. That is entirely up to you! Do that thing you wanted to do. Test that gear! Write that script. Make that film! Take that chance. Nobody is going to do it for you.
Advice to other professionals in the industry
– How would you describe your job to those who know the industry well?
I am very fortunate to have the opportunity to bring characters to life every day. I do not take that for granted.
– Who have you found useful to watch or to learn from?
Everyone! Everywhere! On set! In the studio. YouTube. In other studios. I try to learn and adapt from others every day. Always learning.
– What would be the thing you would most like our listeners to take away from this interview?
Do the work. Take the classes. Test the gear. Invest in yourself. You will not regret it! AND like I said, take that chance on you. 
– What advice do you have for someone new to the industry?
Do the Werk!
Don't forget to say goodbye! Is there anything else you would like to share with our readers? 
Source Elements has really given us all an opportunity to work on projects globally, all from the comfort of our own home. Take advantage of that!
Thanks Robert and everyone at Source Elements for everything you do!