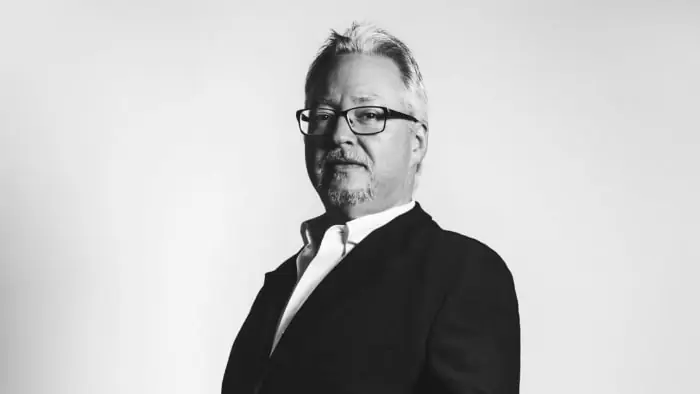 Ken Foster – the self-described Voice of Medium Energy, "natively fluent in both Sarcasm and Professionalism," is one of those people who really taps into the fun of VoiceOver. He's been called on by McDonald's Denny's and Walmart to get their message across, he's all over commercials, games, corporate videos, eLearning, TV, audio dramas… in short, if it has to be said, and it has to be said with medium energy, Ken's your voice.
Peter: "The Voice of Medium Energy." Love it! Tell us a little about how you came up with that and how you use it in promoting your work.
Ken: 100% honesty, "Medium Energy" is a title from an album by US comedian Todd Barry, which I enjoy quite a bit.
Peter: Oh! I bought his crowd-work comedy special!
Ken: I've always loved the mental picture of "Yeah I'm with this, but I'm also doing it at a sane, manageable level." I was in a weekend workshop in New York City, led by some prominent persons in the Voiceover world, and I was put on the spot to define my sound, and "Medium Energy" was what tumbled from my brain to my mouth. And it stuck.
Once I started thinking more about it, it made perfect sense for me and my place in the voiceover world. I am too old to get wound up and hyper (and still sound convincingly like myself). So it's come to mean conversational, casual and calm, but also confident, charismatic and cool — a label that fits, and that stuck.
Peter: I love asking voice actors for weird anecdotes about where they drew inspiration for particular voices. Late night local TV ads and local radio seem to be popular sources of inspiration! Do you have any stories like that?
Ken: I've met a lot of people in my life, and a ton of 'characters.' Almost every day I draw from that well for auditions or productions, trying to build a new persona. A few inspirations that come to mind are the southern Coca-Cola delivery driver who always spoke with a toothpick in the side of his mouth; the over-confident, under-qualified presentation host at an annual sales meeting; a friend I will just call The Mumbler; local news personalities ("Pukey Buke" for one) and even some family members too close to name here. I will 'lift' the characteristics of people I see out in public all the time – especially strange accents or verbal mannerisms. They say everyone's a critic, but I believe everyone is creative fodder too.
Peter: Love it. So for the gear geeks out there, tell us about your recording setup.
Ken: I've got some history in audio-visual toys, and early career work in computers and networking, so this is right in the crosshairs:
My booth is an acoustically-treated Whisper Room, and it contains two regularly-used microphones: Sennheiser MKH-416, and Rode NT1. Those feed my Universal Audio Apollo Twin X Duo interface, into my studio computer (new 2020 M1 Mac mini) both outside the booth. Apple display, mouse, keyboard, headphones (Beyerdynamic DT-770's) & headphone amp are all inside the booth for working convenience. I record and edit at my studio desk, an On-Stage Stands 3-Shelf Workstation, also in the booth.
Peter: And how has Source Elements helped you in your work?
Ken: Being a Source-Connect user for years has been invaluable in my work. My longest & most frequent voiceover account has done everything via Source-Connect since 2018. The client actually was a bit wary at first about doing anything with a home studio, so the remote engineer & I had to give the impression I was recording in a professional studio (and honestly, I am). And since becoming a Source-Connect user in 2016, I've used it with over half my clients as a remote recording solution. As the Covid pandemic began to take hold, being a seasoned Source Connect user and studio gave me a leg up over talents without it, and I definitely saw a bump in bookings and sessions. I was SO happy to learn about the certification program because it allowed me to formally learn the inner workings of the product (back to my tech-y nerdy history). Now, when called upon, I can offer assistance to my peers with confidence (or know when to back away and tell them to contact Source Elements support!).
More info about Ken Foster: