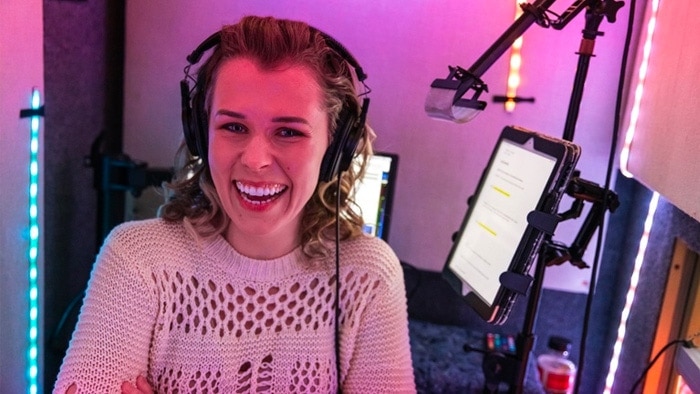 How did you become a voice-over artist?
I started acting as a little kid, which then led to training at Carnegie Mellon's School of Drama, followed by work in film and TV. One day on set, another actress and I got to talking, and she asked why I wasn't also pursuing voice over. While I had done some basic training in it before, hearing her talk about how much she enjoyed the work and the collaborative, supporting community really stuck with me. I signed up for a six-week course, then another, and so on. Today, voice over work is my full focus – it is such an exciting and fun career!
What do you love most about what you do?
Being a voice over artist is wonderful for many reasons. Everyone talks about the great pay and the lack of a commute, once you have a home studio. While those are certainly perks that I love, there is a lot of hard work, training, and invested money and time that exist outside of the bookings. What is most rewarding to me about my work is being able to work with people to share their stories, in a way that helps them connect with others. At our core, all humans want to belong. It's really a simple and primitive desire. I love that the voice transcends stereotypes and brings people closer.
What is a career highlight or something special about what you do, that you'd like to share? 
I've been fortunate to have worked with some stellar clients, many on an ongoing basis. I also come to the work having been a dancer and stunt performer, so I am able to feel solidly connected to copy in a physical way. That's so important for authenticity and staying grounded. I bring a lot of personality to my work and interactions.
How does Source Elements help you collaborate?
Source Elements has been a game changer not only for me personally, but also for the VO and marketing world. COVID-19 permanently changed how we connect to bring spots to market, in a time where connection is greatly needed. Having Source Connect Standard has calmed clients of mine, knowing that we have a stable, intuitive, reliable way to communicate and get the job done. In a time where many creatives have been sidelined, I am very grateful to still have my home studio as a way to create. Stepping inside the booth feels like taking a hot air balloon trip with a few friends to a place where anything is possible. It's been a way to find hope over the past year and to stay focused.
Is there something that you feel is special about what they offer in terms of software, customer service that stands out?
As someone who is naturally creative, the technical side of things can be very intimidating. Tech support for VO does exist, but a lot of it comes from hours digging through blogs and YouTube videos. Source Elements has a well-defined support system that I can rely on, and the folks I have worked with have been non-judgmental; whatever my question or abilities, their attitude is always helpful. I get help within 24 hours, can schedule live support sessions if needed, and know that the person I work with will be patient and educating. I am so grateful to know that they've got my back.
Find out more about Chelsea Vincent at https://chelseavincentvo.com/