Here are The Booth Of Us, Jay & Megan, answering our questions today: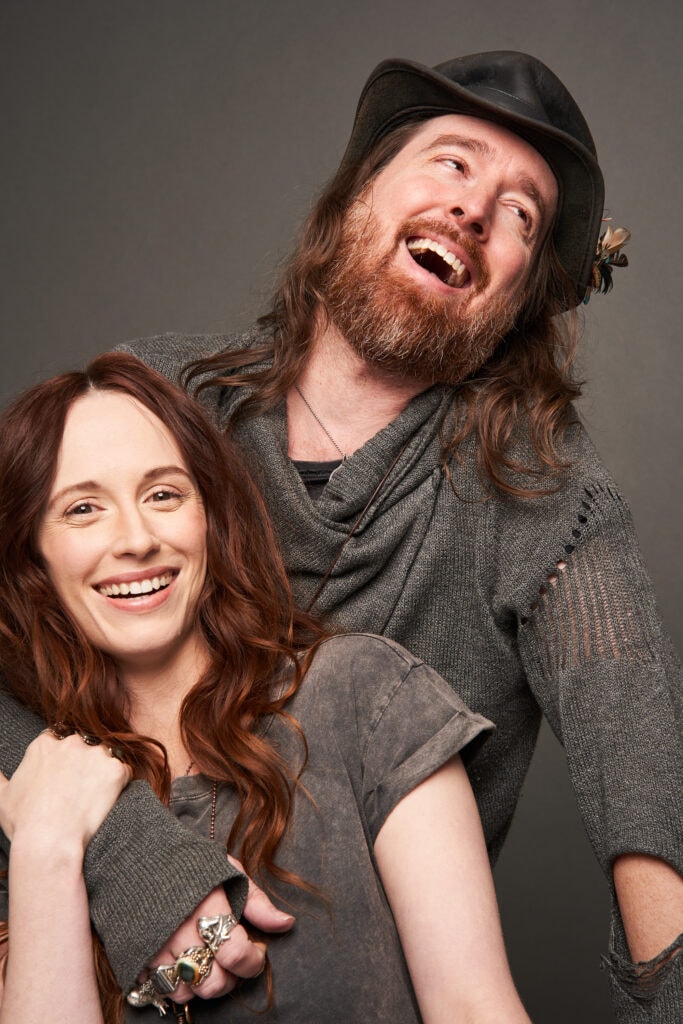 Let's start with some ice breaking quick questions:
– What's your favorite book?
Jay's is Don Quixote!
– Mac or PC user?
Mac users
– What was the last software or hardware you purchased?
Probably Adobe Audition CC renewal
– Analog or digital recording?
Digital
– Do you play any musical instrument?
Meg plays the Guitar and Ukulele!
– What's your favorite Digital Audio Workstation for editing sound?
We love using Adobe Audition CC!
– What are your top 3 favorite music bands?
For Jay, Tool, Aerosmith, Bobby Darin. For Meg, Pink Floyd, Janice Joplin, Regina Spektor
– Imagine if you could meet a person you wish, who would that be??
We would love to meet and talk to Melissa McCarthy and or Jeff Goldblum or Sir David Attenborough
– This holiday: beaches or mountains?
We are Mountain people, but more so, WINE Country people.
– So what's your preferred weekend?
Any weekend that we can get away, relax, hike and enjoy new places.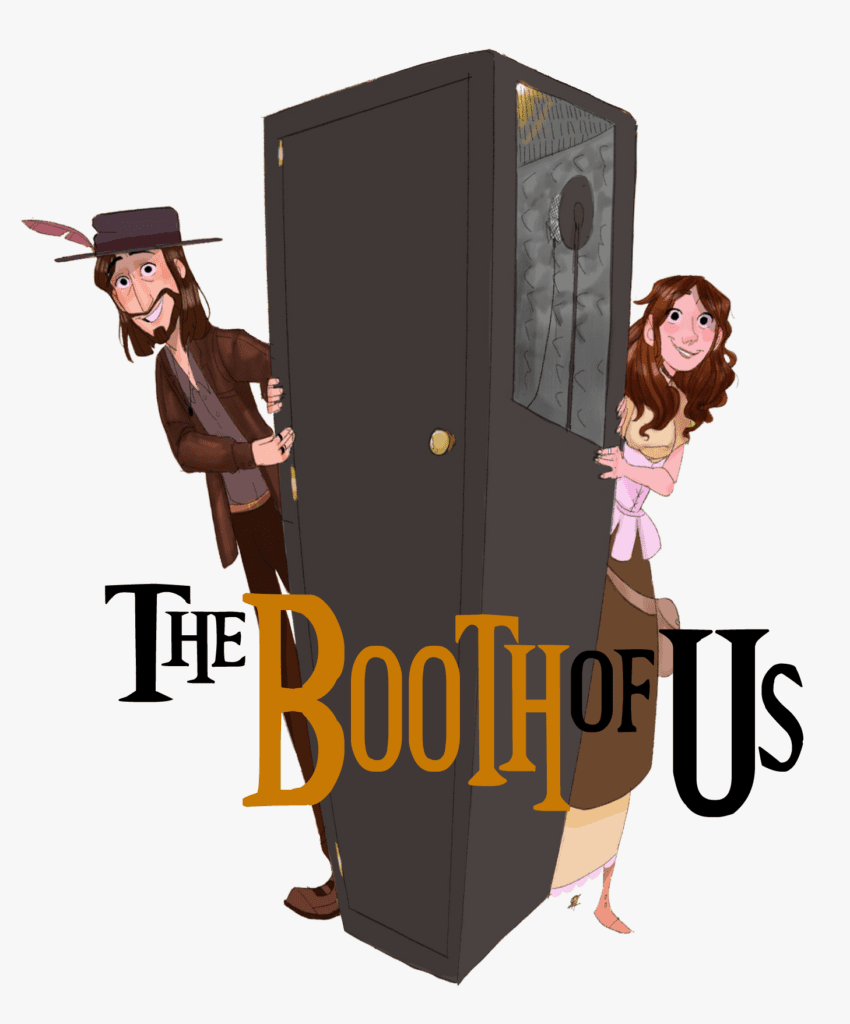 Career Path & Insights
– Where are you based?
Meg was born in Iowa and Jay in Boston, Mass, and we are based in Los Angeles.
– How did you start in the industry? Tell us about your education, training, certifications, mentors, clients, importance of union/non union, agents, …
Jay started on the stage and in school in New England, Meg started on the stage and local films in Iowa. They both headed to Los Angeles to pursue film and television, Jay almost 10 years before Meg.
After appearing in a few films and shows, they eventually crossed paths and fell in love over a few well placed puns and a few more glasses of wine. Jay had already found a love for voice over and was full time in that field when he introduced Meg to what it was like working behind the Mic. She took to it immediately and in 2018 they both formed their joint company "The Booth Of Us"! (www.theboothofus.com)
They have both won awards for their acting. They believe in always moving forward and improving and therefore are always workshopping their craft. Mentors include: Jamie Mortellaro, Bill Holmes, Kal-El Bogdanoven, Dave Walsh, Joe Cipriano, Bob Bergen, Lesley Kahn, Kim Busbee and countless others! They have 10 agents across the country and have worked with 100's of clients, as well as over 50 video games between the both of them. They even wrote a children's book during the first month of the Pandemic called "The Quarantine Bears"!
– Current projects you have at the moment that you can tell us about!
We are both freelance and work through our agents. Meg is currently working on an incredible animation project that we can't tell anyone about yet, and Jay is currently working on two AAA video games that will be out next year and he can't wait to share with the world. Meg is excited to announce that she is in the feature film Americana which was chosen by South by Southwest this year! We also are both in the feature film "End of The Rope" that we filmed in North Dakota last year and it is currently in pre-production. 
– Could you tell us some of the projects you enjoyed the most? Your outstanding project!
Jay and Meg feel so lucky that almost all projects are incredible, but one of Jay's most fun projects to work on was the characters for the PS5 video game "Ratchet and Clank : A Rift Apart", Jay is one of the main Pirates along with some other voices in the game. Insomniac Games is such an incredibly fun and collaborative studio to work with. One of Meg's most enjoyable projects was working on "This is Us" as the children's music teacher, Miss Mindy. She had just learned to play the ukulele the year prior which set her up to book this role when it came along. She loved working with the crew and incredible actors on that show!
– What makes you a great VO artist/studio?
Jay and Meg and fully equipped and work incredibly well together. They have incredible range, along with a background in Improvisation, and can put their own unique spins on any scripts when asked to do so. They are great with improv and nuance and are a directors dream to work with. They are extremely collaborative and love to make sure their clients get exactly what they are looking for every time. Above and Beyond.
– Which part of your job do you most enjoy? 
We enjoy collaboration and building long lasting relationships with the people we work with. Nothing is better than being chosen for a gig and then that gig blossoming into a long-term working relationship and/or friendship. It always feels like you are working with your friends after a while. 
– What is the thing you enjoy learning more?
We are always striving for "Aha" moments. We love learning new techniques and skills in the entertainment world. There's always someone out there that has been doing it longer and has gathered "golden nuggets of info" that they love to share. 
– How do you think learning in this industry has changed?
It has mostly all gone Digital. Now more than ever, you can be anywhere and learn from anyone in the world from the comfort of your own home. There is a new website/hub out there called "Skills Hub" and you can get on-demand coaching and work with some incredible leaders of the industry. Jay also created "The Voice Over Collective" (www.thevoiceovercollective.com) back in 2011 as an incredible resource to navigate the voice over industry. Creating that brought about the opportunity to take over creative direction of the industry's oldest and most definitive publication and resource, The Voice Over Resource Guide [www.thevorg.net] (The VORG) in 2022.  Whenever people ask Jay and Meg about voice over and how to start or what equipment or classes are best, they just send them to The VOC website & The VORG. Everything Jay would ever tell anyone or suggest, is there. 
Remote working with Source-Connect
– What percentage of your work is remote now?
90% I'd say for us booth!
– When did you start with Source-Connect?
You'll have to check the day we first signed up, but Jay was probably using it as soon as it showed up. Meg began using it with Jay in 2018.
– What has been your favorite recording session with Source-Connect?
So many incredible sessions, but we have to say that some of the sessions that we record TOGETHER via Source-Connect are some of the most fun. We have two mics in our booth and run each to a different track for the client. It's incredibly fun to be able to work and improv off each other during the sessions. It's the closest thing to an in studio session we get these days!
– Could you tell us some of the benefits of having remote collaboration tools? 
It has allowed us to record from anywhere across the country. We are available for our clients and for bookings no matter where we are. As a great example, in 2021, we traveled to 26 states by SUV. We created an incredible travel studio and exclusively used Source-Connect and either a hotel connection or our hotspots to record 80% of our gigs. We had a session in EACH of the 26 states! The ability to turn off my service via iLok in our home studio in LA and then activate it on our laptops from anywhere is priceless. Source-Stream has also been a magical tool! Even when the connections aren't the greatest, we've had some amazingly successful Source-Connect sessions.
– How do you see working with remote tools in post-pandemic times?
They have increased exponentially. We are now using Source-Connect in order to do remote video game and dubbing sessions monthly. 
– What is your favorite thing about remote recording?
It affords us a new quality of life we were not able to achieve before. In the past we had to seek out recording studios wherever we landed and some of them were far away. We'd lose days of vacation and travel just to make sure we got to a studio for a 1-hour gig. Now, we just make sure we are in a quite hotel room, set up a booth and we are recording!
– Are remote collaboration tools here to stay?
Of course, ALL OF THEM! Especially Source-Connect!
– What challenges have you faced when working remotely?
As internet connections become stronger and more reliable, the only challenges we face now are making sure we have a quiet enough environment to record in. Sometimes it's very hard to find the perfect hotel room away from elevators, ice machines, on the top floor, and not facing any highways. Haha!
– Are you collaborating with someone remotely at the moment?
At this VERY moment we are on a plane from Boston to LA. In fact, Meg had a Source-Connect session from our hotel in Plymouth, MA two days ago! Worked like a charm.
– Since you are certified, what are the benefits you found on being Source-Connect Certified? What's the impact of that in your career? 
So far, it has only given two clients a sigh of relief. I've found no other benefit yet. I do enjoy the network you all created for certified folks, I hope more people begin using it so that we can perhaps find leads and connections to more work through it. 
Advice to other VO artists/sound engineers/people in the industry
– How would you describe your job to those who know the industry well?
We are full-time working actors with 10 agents across the country. 
– What sort of personal qualities do you think are best suited to your job?
Our desire for adventure and new experiences. The life we've both lived. Our senses of humor, our acting style, our ability to improv. Our ability to take direction. Our humility and open mindedness. 
– Do you have advice for other professionals in the industry?
As always, never stop learning and never give up. As far as voice acting goes, Jay's best advice it to not spread yourself too thin. Choose one aspect of the voice over industry to focus on at a time. Too often, we see actors wanting to do commercial and video games and animation right from the get go. It's always better to pull all your focus and training on one area at a time until you've mastered it and then move to the next. You have to play the long game if you are after voice over success. The less acting training you have, the longer the game gets, but regardless, it's an incredible game. And, if you ever stop having fun, then change things up. 
– Who have you found useful to watch or to learn from?
Every single person that we come across has their own lessons to give. Whether it's what not to do, or how to do something better. If we are getting really specific, Jay's always loved watching Charlie Adler work and teach. Jay's always loved acting with the directors Jamie Mortellaro and Kris Zimmerman and watching them direct. But it's also extremely helpful to watch and learn from your pears. Meg has always loved watching and learning from her friend and incredible on-camera actor Omid Abtahi and has always been inspired by Olivia Colman!
– What advice would you pass on to someone who's trying this sort of remote workflow out for the first time?
Definitely take the certification course and learn what it is your doing and how it all works. It gives you the confidence to troubleshoot problems on the fly. Nothing is worse than signing into a session and something not working. Chances are it's the simplest little solution. You only need to know all the solutions first. 
– What would be the thing you would most like our listeners to take away from this interview?
To not be afraid of getting out of your booth and exploring the world around you. With resources like Source-Connect and the internet, you can have a much better quality of life AND work professionally at the same time. When you are happier and doing what you love, you will ALWAYS deliver better work. I honestly thing adventure, travel and love continue to make us better actors every day.
The Booth of Us
– How did The Booth Of Us start? Tell us about the history since the beginning and how it has grown in the last years!
Jay and Meg fell in love over wine and a bunch of puns. Jay was already a successful voice actor when they met. Meg was solely an on-camera actress with a few side jobs to help pay the rent. After a bit of time trekking with Meg from side job to side job, he decided to try her out in the vo booth. She was already an amazing actress, and Jay already had all the equipment and know how. So with Jay's direction, the auditions would come in from one of Jay's agents and he'd have Meg take a crack at them and he'd give her some direction. One by one ALL of Jay's agents asked to sign her, and, in just a few months, she quit her day job, stopped listening to Jay's direction and was off to the races!
– Who are the people involved?
Jay Preston & Megan Hensley
– What kind of services, resources, consultancy, assistance do you offer?
We offer professional voice recording, a full pro studio, top of the line equipment, copy writing, direction and even voice casting if clients want even more options.
– Who is the audience you aim to approach?
Ad agencies, Casting Directors, Voice Directors, Marketing Teams. 
– Why do you think is it important for the VO industry to have companies such as The Booth of Us? 
Having a working Husband and Wife Duo in the industry is always a wonderful advantage for clients. There's a certain connection that only couples have. Especially ones that can improv off each other as well as we can! We also can engineer for each other during sessions!
– How can remote tools contribute to the existence of projects like yours?
Allowing us to be anywhere in the world and connect is invaluable to our clients. 
– Something really interesting from your portfolio is "The Children Books"…Could you tell us how it started and what's the stage of it at the moment??
During the beginning of the Pandemic almost all work shut down for a bit. So Meg and I were confined to our apartment with absolutely nothing to do. One day, Meg was reading an article about Jared Leto and how he came out of a spiritual retreat and had no idea there was a pandemic going on. So I thought a book about bears coming out of hibernation to a world already dealing with a pandemic would be a great way to help teach children and get them to wear masks. So I began rhyming and rhyming and "The Quarantine Bears" were born!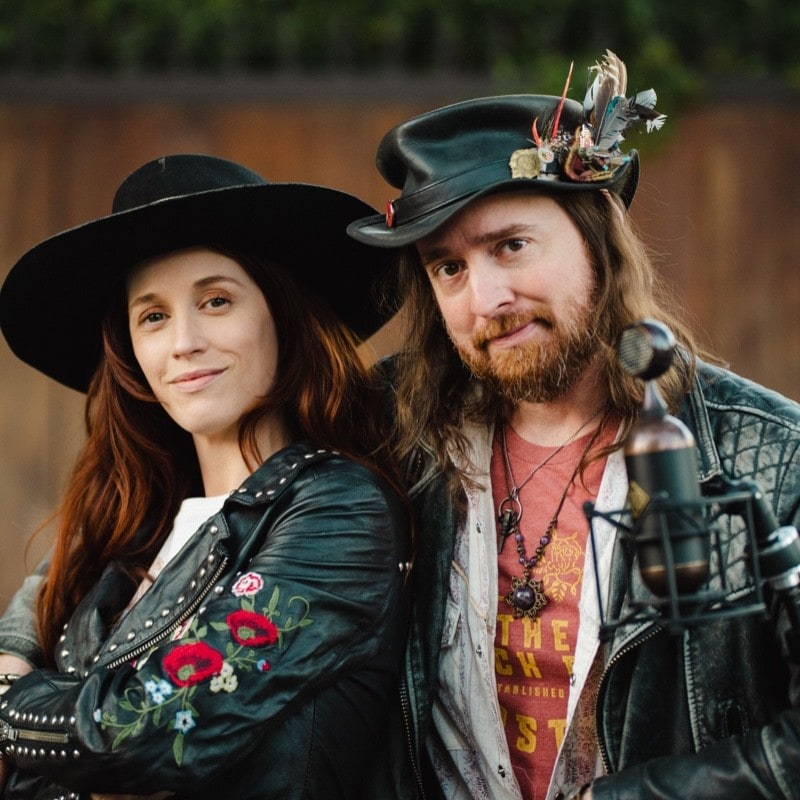 Industry
– How would you describe the media industry? And more specifically, tell us about your experience in the industry (unions, agents, auditions, networking, …)
The Acting Industry is huge and spans across every state. The Voice Over Industry at times seems even larger. There are opportunities in Commercial, Dubbing, Video Games, Animation, E-Learning, Audiobooks and so many more. Everyone starts out as a non-union actor. Some states in the US are "Right to work" states and that means it doesn't matter if the job is union or non-union, you have the right to work them. For many of us living in a major market like NY or LA, we can have the opportunity to audition for and book union work. After 3 of them, you MUST join the union. Once you do, you have access to a myriad of benefits like Health Insurance and fair industry rates. You also are better equipped to land an agent. Networking is always important and one of the best ways to do that is through classes and workshops and communities. All and more can be found on two websites Jay runs. The Voice Over Collective's website (www.thevoiceovercollective.com) and The Voice Over Resource Guide (www.thevorg.net)
– Would you like to change the industry? If so, what would you change?
If I could change ONE thing, I'd take away all the "pay to play" sites and VO on fiver. The fact that anyone with a microphone and zero training can call themselves an actor and BID on projects is beyond me. When they showed up, they drove the industry and rates to an all-time low. I'm happy to say that it's been slowly improving ever since.  
– What's the future of the industry looking like from your perspective?
It is looking bright & also a little scary. With Jay now in charge of The Voice Over Resource Guide, he hopes he can help guide future voice actors and industry professionals and up-and-comers to agents, studios, training and top talent. However, with the threat of Artificial Intelligence Voice Acting upon us, we are a little weary of what's to come. 
– What would be your advice for companies, enterprises and other organizations so they start supporting Diversity, Equity and Inclusion?
Well, my advice is to start supporting it all. We are all on this world together for this brief lifespan and it doesn't matter where on Earth you've come from, you are just as special and unique and important as the next person.

Don't forget to say goodbye!
Is there anything else you would like to share with our readers? Please head on over to our website www.TheBoothOfUs.com and join our newsletter! Follow along our journey! Add us to your contacts and Reach out to us via Source-Connect : TheBoothOfUs and make sure you bookmark www.TheVORG.net for all your voiceover needs! It's the industry's oldest and most definitive publication since 1988 and it's expanding and getting better!