Here is Sion Dayson answering our questions today: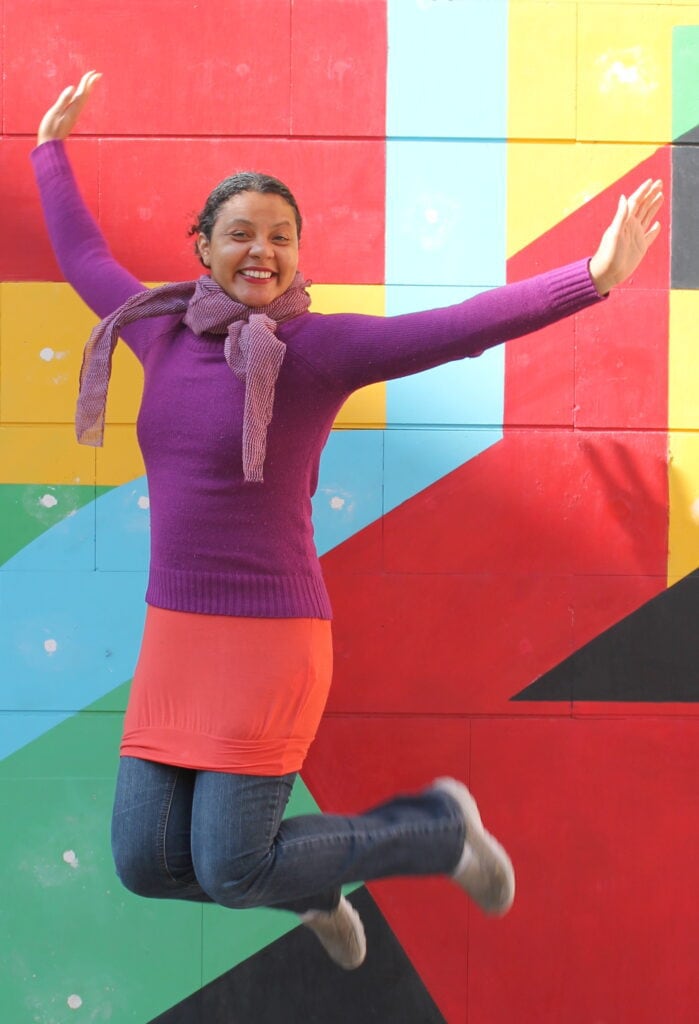 Let's start with some ice breaking quick questions
– What's your favorite place on earth?
I actually live in my favorite place: Spain! Valencia felt like home from the moment I arrived.
– How many countries have you lived in?
I lived a decade in Paris (and became a French citizen!), 5+ years in Spain, and I studied abroad in Ghana and Mexico as an undergraduate.
– Mac or PC user?
Mac all the way, baby!
– What was the last software or hardware you purchased?
iZotope RX 10 Standard (I tend to upgrade with each new release 😉
– What's your favorite Digital Audio Workstation for editing sound?
Twisted Wave. It's so straightforward and user-friendly. Does everything I need it to without overwhelm.
– What is the last movie/series you loved?
That's a tough one because I watch a fair number. Some recent shows I've enjoyed: Slow Horses, Cunk on Earth, Andor, Alpha Males. And now starting the last season of Succession!
– What does a normal day in your life look like?
Morning routine: hydration, cat care, Spanish study, yoga, a walk.
I used to check email first thing; VO is a fast-moving business. But I've found it's been a gamechanger to do nourishing routines to start the day before looking at my phone. Plus, my
Persian cat calls for immediate attention as soon as I wake up 😉
I tend to work ON my business in the morning and IN my business in the afternoon. ON: marketing, social media content creation, invoicing – all the moving parts of running a solo voiceover business. IN my business: recording and auditioning.
Because I'm an American in Europe, I try to straddle the two time zones. I start later and end later to meet the needs of both European and American office hours.
No two days look the same. I do a fair amount of eLearning, corporate, and narration work and most of those projects are self-directed. I could have live sessions scheduled. Auditions
may come in from my agent or production houses where I'm on the roster. It's all about seeing what's on the docket for that day (and of course, new things can pop up at any time).
I tend to work until at least 7:30 CET (1:30 EST), often much later. I periodically check email in the evening to see if anything comes in. I've done directed sessions as late as midnight.
If I don't have evening/night projects, then I spend time unwinding, having dinner, doing Wordle (in English and Spanish), and watching a series.
I replaced the last social media scroll of the night with reading before lights out.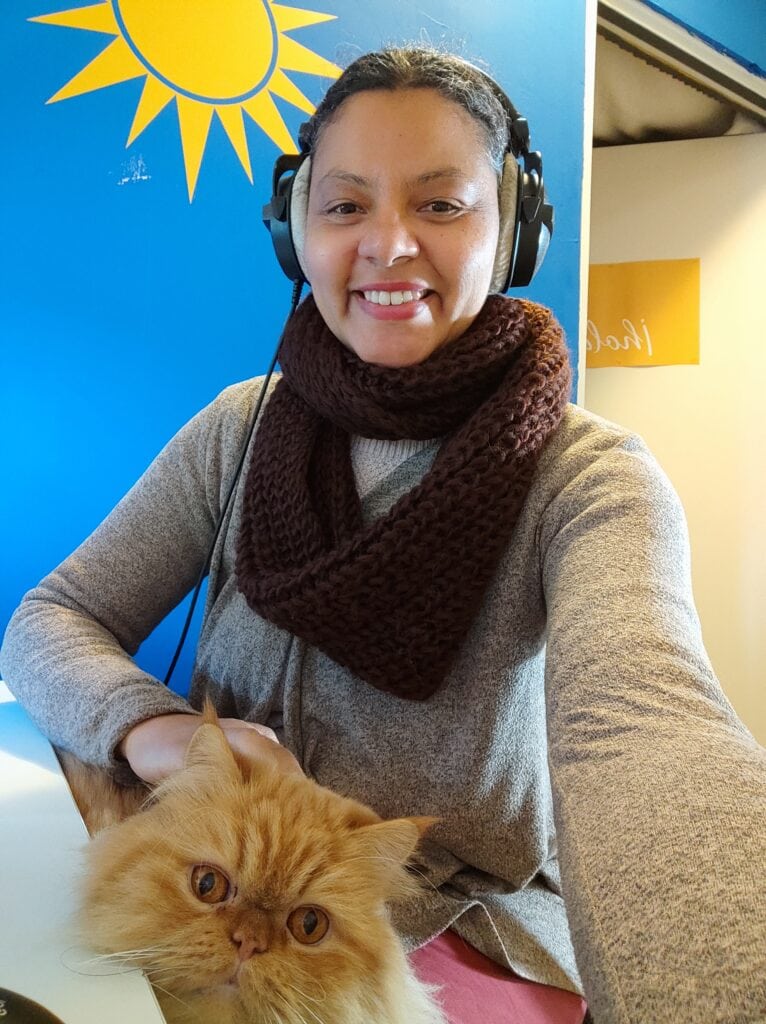 Career Path & Insights
– Please tell us A LOT about yourself!
I'm Sion Dayson, an American voice actor / narrator based in Valencia, Spain. It's been an enriching, non-linear path to VO and all of my past experiences feed into my work. 
From the time I was little, I dreamt of being a writer. Books surrounded me from the start; my mother was a librarian for 50+ years. I also loved films and wanted to host American Movie Classics. So storytelling and love of language were part of my DNA.
I was curious about people and the world. I studied sociology and anthropology as an undergraduate and minored in dance and environmental studies at a lovely Quaker college in North Carolina. (Yes, I had a lot of different interests!)
The summer after I graduated, I attended ADF (American Dance Festival), the largest dance festival in the world. In company with a ton of talented dancers, what did we talk about? Moving to New York City. So I did!
I absolutely LOVED New York. The energy there is like no other. I worked a series of varying jobs that all had their interesting points. Transcriptionist for media shows. Americorps for a year. At Symphony Space, a performing arts center. The Social Science Research Council.
At the latter, I organized different conferences and one brought me to Paris. The city had as strong a pull for me as New York and I knew I had to make my way back. I planned a month's vacation there a little while after that…and I fell in love with a Frenchman the first week I was there. No surprise that I decided to take the leap. Who doesn't follow a love story to Paris?!
I taught Pilates for a year, then worked as a content writer for Expedia. After a round of layoffs at the company, I went back to get my MFA in Writing. 
I wrote the bulk of my first novel there, though it would take years before it was published. (As a River eventually won the Writer's Center First Novel Prize and the Crook's Corner Book Award for best debut set in the American South).
For several years I was a freelance writer in Paris. I acquired French nationality.
I decided a decade in Paris was enough – I needed sunshine and the sea. I moved to Valencia. And immediately felt I had finally found home.
I started teaching English as a Foreign Language. One day at the university where I taught, we were recording listening activities for our students. The sound engineer asked if I was a professional voice actor because I was so good at it.
That question lit me up. This was back in November 2019. Even though I didn't even know what VO entailed, I had this immediate intuition that this was the vocation I had always been seeking. It combined my passion for stories, language, creativity. I love people, but I'm an introvert. I get to work alone from a booth?! Perfect! 
I haven't looked back since. I am so grateful I found the job that makes me glow.
In my downtime I love playing with my cat, living room dance parties, frolicking outdoors, and staying open to the next adventures on the horizon.

– How and when did you start and how did you start as a VO in the industry? 
As soon as I was asked that question – "are you a professional voice actor?" – I immediately went into research mode. Listened to all the podcasts, read all the blog posts. 
The pandemic actually offered amazing dedicated time for me to dive deep into voiceover. Build a studio, get coaching remotely, teach myself sound editing. Having such a huge project (changing careers!) gave me extreme purpose during lockdown.
My first VO coach was Lori Alan. Again, this had to do with the unexpected opportunities during that period. Lori Alan, this incredibly talented, famous actress, was offering discounted rates on coaching as a pandemic special! I signed right on up. We connected instantly. 
I later coached with Lori and Susan Palyo at Voice Trax West and made my commercial demo with them. I also found some of my closest VO peeps in their class and remain in a workout /support group with them.
I also joined Carrie Olsen's Voiceover Success Intensive. This also had the magical timing as for the first few months of my membership, Carrie offered *daily* calls during lockdown. 
That constant exposure to education about the industry from a warm and generous guide such as Carrie meant my learning happened on hyperspeed. We had hours upon hours of script reading practice, improv games, editing tutorials, Q&A. I know I wouldn't have grown as fast if not for this accelerated opportunity to learn so much so quickly.
I've done private coaching with Marisa Dargahi, Kelly McGee, and Nic Redman. I've taken classes with Paul Liberti and Anna Garduno. Debra Sperling's "Authenticity in Voiceover" class blew my mind in the best of ways. Training is ongoing.
I also do a weekly workout on the UK time zone and we've had some fantastic guest coaches including Samantha Boffin, Helen Lloyd, Dian Perry, and more.
I'm a non-union voice actor. As I'm a permanent resident of Spain, I assume it's going to stay that way. I'm represented by Tada! Voiceworks in Toronto. Would be happy to have more agents, but I haven't done a big submissions push as I've been sourcing work pretty well on my own.
One of my steadiest clients is Blinkist, an app that summarizes the key takeaways from bestselling books. I've narrated titles by Michelle Obama, Brene Brown, Robin Sharma, Tarana Burke, Paolo Coehlo, and many more. I'm at 80 and counting…
I also do regular work for Business Spotlight Audio, a trainer for German speakers learning English. I love voicing materials for English language-learners as 1) it's via teaching EFL that I got my introduction to voiceover and 2) I'm a language learner myself so I can really bring that understanding and empathy to the work.
I've been lucky to have amazing clients all around. I've voiced projects for LG, Gorillas, Pearson, Iberian Media, TransPerfect, and many more. Always looking to make new connections and build new relationships.
Oh, and how can I forget? I do have a Source-Connect certification 🙂
– What keeps your motivation up in the business?
Because I do so much narration work, I get to learn about new topics constantly. I love that! I never know what projects will be in my inbox each day. That's a thrill unto itself. I stay motivated because there's never an end to how far one can go. Work on the craft is continuous. Improvement is always possible. There are many different genres to explore and the sky's the limit.
– Could you tell us some of the projects you enjoyed the most? Your outstanding project or client!
I voiced a video for the National CASA/GAL Association for Children urging people to volunteer to advocate for foster children's best interests. CASA stands for court-appointed special advocate and GAL for guardian ad-litem. I love being able to work on projects and causes I find meaningful.
I also did a radio campaign for Gorillas targeted to New Yorkers. They were jokey spots with some snark, which is a really fun tone. Especially cool because of my connection to NYC.
I've also done some eLearning videos about the foundations of acting and analyzing plays. I'm a nerd for that kind of stuff.  
And my regular gig for Blinkist is always bringing interesting content my way. I was humbled and honored to narrate the Blinks for Viola Davis' "Finding Me" and Michelle Obama's "The Light We Carry."
– What are the biggest challenges you are facing as a VO at the moment?
AI is really disrupting the industry and it feels like the Wild West right now. I recently had to decline an important project I wanted to do because they would not budge on a clause in the contract that would have given them the right to clone my voice.
It's tricky terrain at the moment and I hope as an industry we can establish some best practices and define a clearer path going forward.
– Which part of your job do you most enjoy?
I've never had a job I loved so much – it's hard to pinpoint just one part! I love the diversity of projects I get to work on, the intimacy of the booth, building relationships with clients, the breakthroughs in craft, the supportive VO community. It takes a lot of effort to be successful in VO, but the rewards are so worth it.
Home Studio for remote recording – Let's get nerdy about techie stuff!
– Do you have your own studio? Could you tell us what setup, tech & hardware it consists of? How did you build it? Which kind of interface, DAW, setup, mic, headphones, speakers…
I do have my own studio! My first DIY studio was a makeshift concoction. I pushed two large wardrobes together and lined them with clothes and acoustic blankets. It actually sounded great! 
When I moved to my new place closer to the beach, I decided to level up. I hired an audio engineer from a local studio who also did custom booth builds. We picked the room that would make the most sense then took it from there. The booth is about 3.5 x 8 feet, has a floating floor, false ceiling, double walled with Rockwool insulation in between, Rockwool panels inside (and some of my Producer's Choice blankets from the old studio – they still rock!). I'm very happy with it. 
Inside the booth I have my AT2035 and Synco D2 mics, Motu M2, external monitor and wireless keyboard and mouse, Beyerdynamic DT770 Pro headphones. Outside the booth I have my MacBook Pro. 
I do all my editing outside the booth. I like that I have this split between the office and the booth. When I step inside the booth it's for performance. Everything else can be done in the editing suite.
– Which kind of services do you offer with your studio?
I offer remote recording via any method that's convenient for the client: Source Connect, Zoom, MS Teams, Google Meet, SessionLink Pro, bodalgoCall, Skype. I also do many self-directed projects with quick turnaround. I send raw or edited audio depending on the desires of the end client. 
I do all types of narration, eLearning, explainers, corporate, commercials, audio drama, audio description. Got a project for me? Hit me up!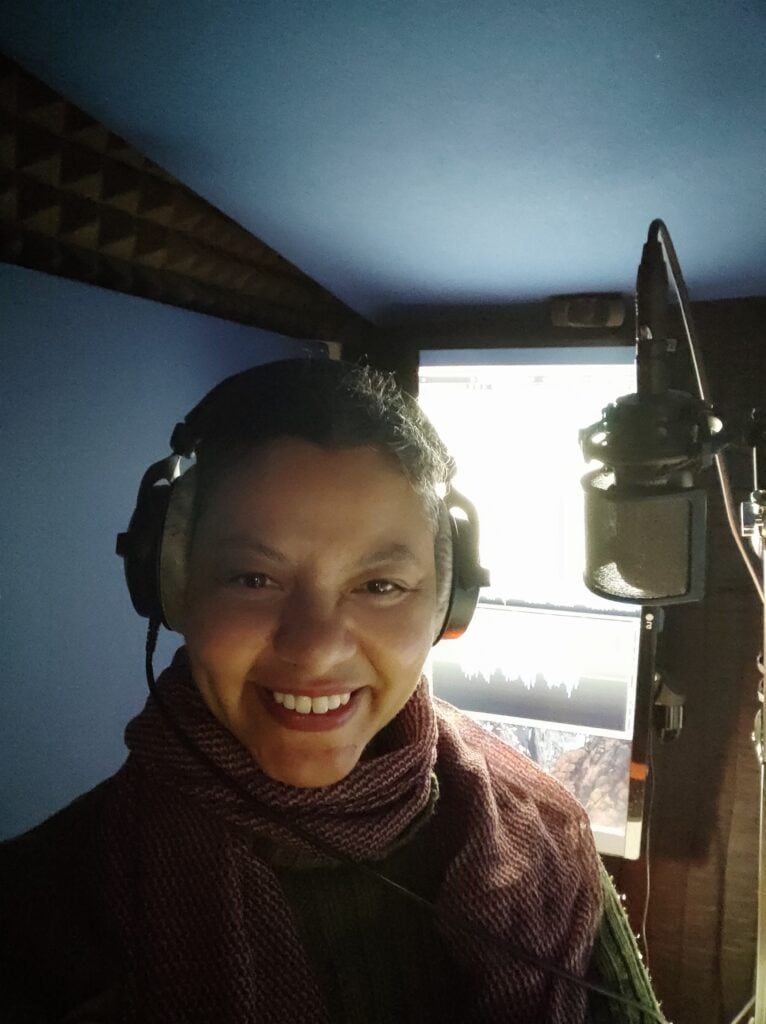 Remote working with Source-Connect
– What percentage of your work is remote now?
100% of my work is remote!
–I am curious to know how a person who arrives in a new place builds their professional future. Remote tools such as Source-Connect of course have a lot to do with this, right? but also the network, auditions, studios…Since you are in Spain, how did you build your network? Did you decide to move to Spain after a stable network or have you built it from there? I'm curious to know all about this professional journey! Others will love to read too.
I didn't know anyone in Valencia when I moved here! But I'd lived abroad for 10 years previously. I already had experience making connections in a new place and maintaining relationships across long distances.
When I entered the voiceover industry, I didn't know anyone either. But I quickly found ways to connect. The remote possibilities during the pandemic meant that I was connecting with peers and coaches from the beginning.
I had peeps from the Voiceover Success Intensive, the friends I made in Lori and Susan's class. I met some folks at eVocation conference. (That virtual conference had included a dance party, and wonderful VO artist Lisa Leonard continued the tradition with weekly Monday dance parties. So every Monday I would dance virtually with some sister VO artists!)
People are wired for connection. I try to show up with my curiosity about others, my joy, and my authenticity. From there I think it's possible to start connecting with people in a real way. 
– When did you start with Source-Connect? Why did you decide to start with Source-Connect? How was your beginning with remote recording sessions? 
I started with Source-Connect from the very beginning of my VO career! 
The first project I ever booked was for a 12-minute internal video. The second job I booked was for a 6-hour live directed session over Source-Connect!
So…yeah, I jumped right into the deep end and got Source Connect immediately. Split into two 3-hour sessions, I was playing a lead character in a virtual simulation for the National Academy of Sports Medicine. 
As it was one of my first projects, it was a crash course in so many ways. I remember so clearly being amazed at the efficiency and skill of the sound engineer. For each section of the script I'd give my ABC read, the creatives on the line would say which parts they liked of which, and seemingly within seconds the engineer snapped it all together and played it back so smoothly.
We recorded everything we needed in 4 hours 20 minutes and didn't need the full 6 hours. It was an intense way to begin my VO career, and I wouldn't have it any other way. It gave me an immediate confidence boost. I could do it!
Ever since, I've always been so grateful for remote recording sessions.
– What has been your favorite recording session with Source-Connect? Could you tell us some of the benefits of having remote collaboration tools? Tell us a lot!
My first Source-Connect session was so memorable that it's definitely among my favorites, but I've had many! 
A few months ago, I had my first remote session in Spanish. I'm not bilingual, but I have a high intermediate level (B2). I work a fair bit with Iberian Media (love them!) and many of the clients are native Spanish speakers. My scripts are in English, but we sometimes start the sessions chatting in Spanish. 
This time, it organically continued. I think the client enjoyed being able to give direction in their native language, even if the script was in English.
What I love about live sessions is that the client can hear my delivery in real-time and can tweak as needed. We can work together to ensure we get exactly the sound and interpretation they want. I get to focus on my performance and let the engineer work their magic.
– Are remote collaboration tools here to stay?
Yes, no doubt!

-Since you are bilingual, what percentage of jobs do you do remotely in different languages?
That's a very kind assessment, but I am not actually bilingual ☺ All of my jobs are in English. I'm getting more comfortable taking direction in Spanish. I imagine I could take direction in French, as well. I have an even higher comprehension level in French, actually – but my spoken French has withered way below Spanish now. When you don't consistently use a skill, you lose it! It's one of the reasons I include Spanish study every day in my routine.
– Which are the places or countries you mostly record to/from?
I always record from my home studio in Spain. I work with clients all over the world. The biggest bulk of my work comes from the US, Canada, and all over Europe. I've also worked with clients in Korea and Australia – those were when the time zones really caught up to me! 
Industry, Diversity, Equity and Inclusion
– How would you describe the media industry? And more specifically, tell us about your experience in the industry
The VO industry is the most supportive community I've ever been part of. From the day I first discovered this realm, there have been people at every turn willing to offer advice, encouragement, referrals, and friendship. We're each unique beings, so there's no competition, just championing each other.
– How is the VO community around you? Do you belong to any platform, community or group?
There isn't a huge VO community in Valencia (that I know of!), but I am a part of an Audio Professionals group here. We meet monthly and it's nice to be able to geek out with other audiophiles in person.
I'm in a lot of VO Facebook groups, and my two workout groups are an essential part of my community. I also continue my monthly calls with the Voiceover Success Intensive. 
And I recently joined The Great Audiobook Adventure with Elise Arsenault to continue upskilling in narration. From the get-go, that community has been incredible. So supportive and generous.
– Which congresses, events or festivals have you been participating in? Which one do you recommend?
I attended eVocation in 2020 and really enjoyed it. It's a conference focused completely on the business side of voiceover, which is so valuable. I also attended VOlé in Madrid in 2022. My first in-person VO conference was completely in Spanish! I'm sure I'll get even more out of it when I'm completely fluent. One of many goals ☺
– What's the future of the industry looking like from your perspective?
This is an ever-evolving industry. I don't have a crystal ball so I can't predict the future. What I do know is that you always have to be on your toes and keep on top of new trends, technologies, and topics to stay in the game.
Advice to other VO artists/people in the industry
– For someone who is starting their career at your age, what kind of advice would you give them for auditions, unions, agents, platforms, conferences.
I would say before even thinking about auditions, unions, agents, and all the rest – do your research! There are a ton of free resources to start understanding the complex ecosystem of the VO world. Numerous podcasts (VO School Podcast, VOPreneur, VO Boss, etc), Facebook groups. You can learn so much by just listening in and seeing what's happening in the industry.
The more information you gather, the better you'll understand what steps you have to take. Because there are A LOT of steps!
I would also say to start getting coaching as soon as you can and to treat the endeavor as a business. Those are key ingredients to set yourself up for success.
– Voice over career is not only about having an incredible voice, it is also a lot about personal branding, marketing, networking..what do you have to say on this?
Agreed! When you start out, the *majority* of your work is trying to find the work! Even when you start building a list of regular clients, you constantly have to nurture those relationships, cultivate new ones, continue to do outreach, audition. In my opinion, having an "incredible" voice is actually one of the smallest elements in voiceover. (*How* you use your voice and interpret scripts is more important).
You have to have the skills to do a great job. But people also want to work with people they like. Being a kind human goes a long way. Colleagues have referred work to me. And I'm delighted to do the same for others.
I think getting clear on what you have to offer helps with branding and marketing. And it can take awhile before you know – and even then, we are constantly changing! Your brand can change! Take notice of what you consistently get hired for and go from there.
It's important to just be visible. People need to know how to find you! I use LinkedIn a lot and have gotten work there.
Hey, that's how I got asked to do this interview, too! 🙂
– What advice would you pass on to someone who's trying this sort of remote workflow out for the first time?
Take it one step at a time. Trying anything new for the first time can feel overwhelming. Be patient with yourself. You have learned plenty of new things before. You can do it again.

– What would you say is your recipe for success?
Joy, hard work, curiosity, authenticity, perseverance.
Don't forget to say goodbye!
Thanks so much for the opportunity to share my story! I can get pretty wordy, but I hope your readers enjoyed. ☺
I appreciate Source-Connect spotlighting their users. Source-Connect has been an important part of my VO career and continues to be so!
Gracias!!
More about Sion Dayson:
https://siondayson.com/