Here is Federico Hencker from Green Road Recording Studio, Costa Rica, answering our questions today: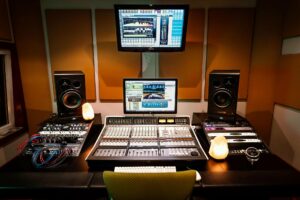 Let's start with some ice breaking quick questions
• What's your favorite book?
I'm not a frequent book reader, but I enjoy reading a lot of technical stuff! I'm not sure if I have a favorite book, however, the latest one I read was Red Dragon from Thomas Harris which I really enjoyed.
• Mac or PC user?
Mac user all the way.
• What was the last software or hardware you purchased?
My latest hardware acquisition was a MiniDSP SHD room correction system with Dirac Live. Awesome DSP processor. I use it to manage my multiple speaker set up and to optimize the response of my control room.
• Analog or digital recording?
Analogue recording. When recording multiple sources for me is important to feel the faders and sends, have the EQ bands / compressors right at the tip of my fingers. It is much easier to router all the signals together with a console than trying to work digitally.
• Do you play any musical instrument?
Yes, I play guitar. I started my career studying music with emphasis in audio engineering so I play a little bit of electric and acoustic guitar in my spare time.
• What's your favorite Digital Audio Workstation for editing sound?
ProTools and iZotope! RX
• What are your top 3 favorite music bands?
Tool was definitely one of my greatest influences followed by Limp Bizkit and Marylin Manson
• Most recent concert post covid times? And what's your favorite concert ever!
Most recently I attended a Victor Wooten, Steve Bailey and Gregg Bissonette gig at the Jazz Alley in Seattle. My favorite one probably has been Alison Krauss and Robert Plant at the Mountain Winery in Saratoga, CA. T-Bone Burnett was playing guitar at that concert! That was an evening I ́ll never forget.
• What's the most famous person you've met? 
Last year I received Hollywood star Stuart Townsend at my studio. Stuart came to record some ADR lines for a Hallmark Channel movie which was released in December 2021. It was and amazing experience! It was funny because usually I'm not sure who's coming to the studio until the day I have the session, to my surprise it was the leading actor of one of my favorite movies in the earlier 2000 ́s Queen of the damned!
• Imagine if you could meet a person you wish, who would that be??
Probably I would like to seat and chat with Andy Wallace, he is one of my favorite mixer engineers and most of the bands he has worked with had a great influence on my development as an engineer.
• This holiday: beaches or mountains?
I live in Costa Rica, so I'm lucky to have both options available. Probably I'll choose to go to the beach and just enjoy the summer weather during Holidays.
• So what's your preferred weekend?
Staying home with my partner and our Chihuahua Otis! Probably watch some movies and order some Indian food would make my preferred weekend.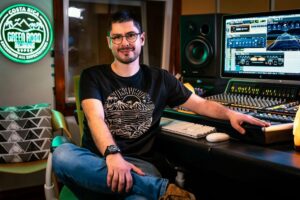 Career path & insights
Where are you based?
I'm based in the beautiful and sunny country of Costa Rica, however I'm originally from Colombia.
How did you start in the industry? Tell us about your education, training, certifications, mentors, clients…
When I finished high school in Costa Rica, audio engineering was not considered a professional career in the country by that time.
I'm from Colombia, so I decided to attend college there. Music business has been growing a lot in Colombia in the past few years so it was a great place to study audio engineering. By the time I finished college I joined the AES and I started attending audio conventions in the US and Latin America where I met a lot of people including Horacio Malvicino. He was the person in charge of designing Green Road Recording Studio which is my personal project studio and also the person who introduced me to great mentors. One of them was Chilitos Valenzuela, I spent some time in California with Chilitos attending his ProTools training Pro School which allowed me to obtain both Avid 210M & 210P operator certifications in Music and Post. Later that time, Horacio also introduced me with Latin awarded producer Luigi Giraldo (AB Quintanilla ́s All Starz, Cristian Castro, Ricardo Montaner) who gave me the opportunity to internship at his personal studio in Miami in different occasions. Years after, I had also the opportunity to attend a very interesting workshop with the renowned basque recording engineer Rafa Sardina held in Colombia in a studio designed by John Storyk, Estudios AudioVision.
Among the clients I've had the privilege to work with at my studio I can name producers like Arthur McArthur (50 cent, Drake, Wiz Khalifa), Lord Quest ( 2 Chainz, Raekwon, ScHoolboy Q) and SwiffD (Method Man & Redman, Shy Glizzy, Bobby V) and in the Post Production world I've collaborated with companies like Ubisoft, Lego, Hearby, National Film Board of Canada, Online Voices, Rain Maker Studios among others doing ADR and voice over recording for different productions.
Current projects you have at the moment that are not top secret!
I'm a freelance audio engineer, however, since 2010 I've been working in my personal project which is Green Road Recording Studio, a state of the art recording and mixing facility designed by Malvicino Design Group. One project that I'm working at the moment and have me really excited is an album fusing Hip Hop and Afrobeat featuring a well known local Emcee Huba Watson and international songwriter and music producer from L.A Masauko Chipembere.
Could you tell us some of the projects you enjoyed the most? Your outstanding projects!
In 2014 I had the opportunity to record an advertising campaign developed by the Costa Rican Tourism Institute for the US and Canada markets called "Save the Americans" it was a beautiful audiovisual with an adaptation of the popular song by the Tokens "The lion sleeps tonight" featuring Nashville songwriter K.S. Rhoads and Costa Rican vocal ensemble Master Key. I had the opportunity to record this amazing project with Nashville engineer Logan Matheny at Green Road Recording Studio. Another project that I'm proud of is a reggae album I did for Costa Rican singer Mar Villarreal called "Made in Costa Rica". I was involved in all the technical aspects of that project from the pre-production until the releasing of the album. That album is special for me since I took the artist and her producers to Colombia where I put together a band of the very best studio musicians (some of them friends of mine since college) to execute and record the whole album giving a live vibe to it. Finally, the latest project I'm proud of is the vocal recording of a beloved and quite popular main character of a video game. It was a remote session from my studio patching the actor with the production company overseas having the dialogue directors connected in real time through zoom directing the talent. For that session Source-Connect played a key role since the ADR supervisors required to receive the recording takes on the fly! Sadly due a NDA I signed I can't give much more details, but it was a fantastic 4 day experience recording the dialogs for that video game.
What makes you a great VO artist/studio?
Well I think one of the most important things is the location, the gear, the space and of course the experience we provide. Tourists like Costa Rica very much and I'm really glad to be here 24/7 providing them support when required. When it comes to actors and actresses, whenever they require a professional recording studio in order to finish some lines of a movie, game or TV show, productions companies come to me in order to take care of the talent and be able to be that bridge between them and the talent. That allows to maintain the pace of the project without interruptions and I think that makes us unique.
Green Road Recording has grown a lot through the past 10 years and I'm really glad that my studio is one of the first choices they look for when planing a trip to Costa Rica, but also, I'm glad to be in a country where there's a lot of industry necessities. I like to support talented local musicians and I try to help the local scene as much as I can.
Which part of your job do you most enjoy?
What I enjoy the most is having people from all over the world in my studio. One day that I'll never forget is when I had a voice over session with Lama Geshe YongDong a renown Tibetan monk, for me, that session was surreal, I can't believe I had such an amazing human being working with me at the studio.
Which is the thing you enjoy learning more?
Audio, I can't stop learning about audio.
and how do you think learning in this industry has changed?
Being able to take courses online has been a total game changer. Specially post covid there are more and more alternatives to learn more and get certifications without leaving your home and I think that's truly wonderful. When I got my Avid certifications I had to complete the whole courses overseas, and the money spent in housing and traveling is something that nowadays you have to think twice if you want to obtain a certification.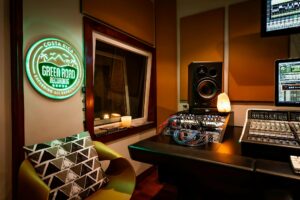 Home Studio for remote recording
Let's get nerdy about techie stuff!
Do you have your own studio? Could you tell us what setup, tech & hardware it consists of? How did you build it? Which kind of interface, DAW, setup, mic, headphones, speakers…
Yes, I have my own studio. At the heart of the studio I work with a Solid State Logic Matrix console. I also use a lot of outboard-gear.
I use preamps like: Millennia HV-3D /4, SSL Alpha VHD, API 3124 MB+ and Avalon 737, as far as the A/D D/A ́s I use 32 channels of Lynx Aurora.
Microphones, I have a big dynamic collection for all kind of instruments, and also condensers from different audio brands, however, if I have to mention one would be my AKG c12 VR. I use that microphone as much as I can because it always gives me what I'm looking for.
If I'm going to record voice overs I prefer to use a Neumann TLM 103 and for ADR I usually use a Sennheiser MKE600 with a Sony ECM-66B as a Lav.
As far as DAW I love to use ProTools and iZotope RX. Whenever I have to do ADR I also use VideoSync Pro from non-lethal applications which I find pretty cool and of course Source Connect for all my remote collaborations!
As far as the speaker selection, I use a pair of DynAudio BM 15A ́s and a DynAudio 18S subwoofer everything controlled by a MiniDSP SHD room correction system with Dirac Live.
The studio was designed by Malvicino Design Group, a consulting acoustic engineering firm from NY in 2010.
What are your favorite places to record?
I like to record in controlled environments where I'm pretty sure there are no external factors that can bleed into the microphones. If the place has a great acoustic then even better!
Tell us also about your software.
Well, I ́ve been using ProTools since the last 14 years. I started using ProTools LE 7.4 and then I moved towards ProTools HD when I opened the studio. Around 2016 I upgraded my system to ProTools native in order to use the AXX plugin format. Since then, I've been using ProTools Ultimate. I like to keep my studio up to date including all my plugins.
Which kind of services do you offer with your studio?
For music services I offer: music production, recording, mixing, editing and digital mastering. For Post Production I offer ADR and Voice Over services. Here in Costa Rica I work with several great local voice over talents with neutral accent so that's another service we offer when media companies requires duties like voice over or dubbing.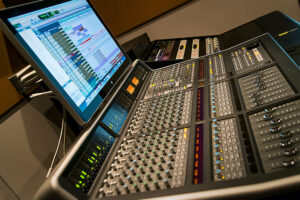 Remote working with Source-Connect
How has the pandemic been for you work wise?
At the very beginning like any other business it was rough, however when the country started opening the borders, I started noticing a lot of people from US, Canada and Europe coming here to Costa Rica, probably escaping from their lockdowns to find a more relaxed environment, during that time I start receiving more customers looking for a professional studio, so I think that helped to reduce the impact that the nonproductive months left at the beginning.
What percentage of your work is remote now?
ADR and Voice Over is almost 100% remote as most of the companies that comes to me for these type of sessions are from outside Costa Rica.
When did you start with Source-Connect? What has been your favorite recording session with Source- Connect? Could you tell us some of the benefits of having remote collaboration tools? Tell us a lot!
I started using Source-Connect not long ago. When I started receiving actors and actresses looking to book the studio for their ADR and Voice Over sessions that's when the need of using a remote tool began. My favorite session with Source-Connect was one I had with Hollywood star Stuart Townsend. We had to record some ADR lines for a Hallmark Christmas movie where he was the leading character. I patched the studio with Source-Connect and Zoom so the dialogue supervisor and the post production team were able to receive each ADR take in real time while we were recording Stuart. Tools like Source-Connect really make the difference for sessions like these. Usually supervisors like to have the audios at hand in order to decide if the takes goes or not
What made you decide to get your studio and engineer Source-Connect Certified?
Yes, I'm certified in Source-Connect Standard and looking to get my Pro and Pro X certification as well!. I think is important to give my customers the confidence that they are working with a certified professional and that the job will be delivered meeting their standards.
How do you see working with remote tools in post-pandemic times?
Remote tools are here to stay. With a globalized and technological world now people have the ability to create without leaving home. I picture myself working more and more with remote tools and implement them also in music projects, which is my next big step!
What is your favorite thing about remote recording?
Well, right now it opened a new business in my studio which is recording ADR and Voice Over. I'm really glad that happened because it gave me a new perspective about new things to offer as a music studio owner.
Are remote collaboration tools here to stay?
Certainly! I wouldn't be able to do ADR with actors and actresses if it was not for the remote collaboration tools available.
So what would be the challenges that you have faced when working remotely.
Everything has been really straightforward, however at the beginning I was a bit concerned about the data transmission loss and internet connectivity, I invested in a better internet provider and a professional modem and then all my worries disappeared when I started using Source-Connect.
Are you collaborating with someone remotely at the moment?
No at the moment, usually the remote collaborations I perform at the studio are by request when a production company request an ADR or Voice Over session. At least from now. My goal is to expand myself in the near future so I can also collaborate remotely in the music industry as recording and mixing engineer by using tools like Source-Nexus! Which I find really appealing for a studio like mine.

Industry, Diversity, Equity and Inclusion
How would you describe the media industry? And more specifically, tell us about your experience in the industry
I like to describe it as a cluster of very talented and creative people that have had the fortune to find their niche. So far my experience has being great. I had the luck to join the AES after finishing college so I've been able to mingle with people that somehow have been able to give me an advise or two. Networking is really important in this industry, the way I make connections is by attending industry conventions and being part of industry organizations like AES and Latin Grammys.
Would you like to change the industry? If so, what would you change?
Sure! There are always areas of improvement. I honestly would like to change some aspects of how streaming companies accept submissions for example. There should be a way to filter / penalize material that doesn't comply with technical industry standards, sometimes streaming companies just wave their hand when it comes to quality and users deserve much better than that.
What's your perspective on diversity, equity and inclusion in the industry at the moment?
I think is great and I'm trilled to be in a world where you can find opportunities for everyone! Diversity and inclusion opens the spectrum. We belong in a cluster of very creative and talented people and everybody now is welcome to join.
What's the future of the industry looking like from your perspective?
Streaming has opened a lot of new opportunities for everyone, the industry has been evolving quickly, now with immersive audio and all the technology around is a good time to be part of it.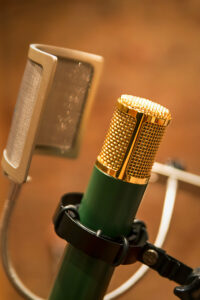 Advices to other VO artists/sound engineers/people in the industry
How would you describe your job to those who know the industry well?
As an all around type of job I guess. Since I run the studio all by myself I have to be really versatile when it comes to my job.
One day I'm mixing an album, the next day I'm setting up the studio for a complex ADR session where I never know who is going to be my next guest, and sometimes it can be movie stars!
What sort of personal qualities do you think are best suited to your job?
I believe it is important to be a people person and a little bit extrovert in order to do the job right. When running a professional studio you got to be really open minded and also to have a strong personality, not everybody is suited for such responsibility.
Do you have advice for other professionals in the industry?
Just keep doing what you love the most, be patient and every time try to do your best no matter the circumstances, if you make a mistake be humble and always apologize to your peers.
Who have you found useful to watch or to learn from?
I have a very good friend in Colombia, Felipe Lopez, an amazing mastering engineer who was my teacher when I was in college. Whenever I have technical questions about what I'm going to do next I always turn to him.
What advice would you pass on to someone who's trying this sort of remote workflow out for the first time
It is always helpful to know a little bit about IT stuff. Networking, Internet and modems. Make sure your internet connection is as stable as possible and run as much tests as possible without having your client in the other side waiting for you to troubleshoot a possible problem.
What would you say is your recipe for success?
Love for the craft, discipline, network and lots of persistence!
What would be the thing you would most like our listeners to take away from this interview?
The audio industry is a beautiful industry to belong to. Keep doing what you love the most. Always give credits to the people who deserve it and just be yourself while following your path. It is a long one, so try to enjoy the ride.
Don't forget to say goodbye!
Is there anything else you would like to share with our readers?
I just want to thank you guys for giving me the opportunity to share part of what I do here at Green Road Recording Studio in Costa Rica. It is always gratifying how companies like Source Elements not only develop awesome tools that help us to connect with the world but also, helps engineers like myself to get a bit of exposure so, just keep rocking guys! I'm trilled by doing this interview and I hope this can give inspiration to others to just keep trying!
More about Green Road Remote Recording here:
https://www.greenroadrecording.com