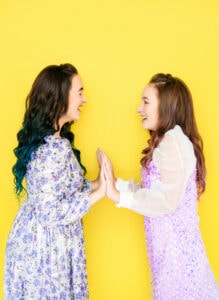 We couldn't be happier to have been able to interview the passionate Glow sisters. They record from home for a large number of projects and are certified with Source-Connect! Cassie and Sabrina Glow of Glow Girls Kids & Teen Voice Overs are award-winning voiceover and singing artists from Orlando, Florida who have been heard billions of times across the world for clients such as Disney, Nickelodeon, Fisher Price, LEGO, Sesame Street, Morphle TV, Spotify, iTunes, Mattel, ZURU Toys, NBC/Universal Kids, Hallmark, Dreamworks, and Netflix. Big thanks to their amazing mom Susan Glow for helping with this interview!
Peter: Tell us about how you entered this crazy profession!
Cassie & Sabrina: Our childhood was filled with reading books aloud, singing, puppet shows, messy art projects, acting out made-up stories, countless trips to magical theme parks, and watching lots of classic animation and cartoons. To encourage our creative side, our parents encouraged us to try all sorts of art classes like dance, musical theater groups, and kids' acting and improv. We had some fun experiences with commercials and print work in the local market, but once we learned that voiceover was a thing, we knew that was what we wanted to do! We officially started in the voiceover world when we were ages six and eight – but we wish we had started even sooner! It combined everything we enjoyed – reading, singing, acting out stories, toys, and cartoons!
Since kids' voiceover work was not very common or easily accessible in our area at the time, our mom started reaching out to contacts in other entertainment markets and connected us with voiceover coaches to work with remotely. We immediately loved it! We trained across multiple voiceover genres – like animation, toys, and commercial VO – and then practiced-practiced-practiced and auditioned-auditioned-auditioned. Over time our persistence and hard work earned us a track record of more and more voiceover bookings and agency representation across the country.
Today, we work with various animation studios, production studios, creative agencies, and streaming services that specialize in the kids' market. We have been doing voiceovers for half of our lives!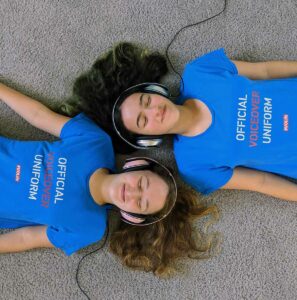 Peter: What kind of setup do you use for recording at home?
Cassie & Sabrina: Our home recording studio is a dedicated space that has been acoustically treated with a combination of producer's sound blankets, sound panels, 2-inch-thick acoustic foam, and padded flooring. Our equipment includes a Neumann TLM 102 microphone paired with a Steinberg UR12 interface, along with other helpful accessories like a Harlan Hogan metal pop filter, Audio-Technica ATH-M40x studio headphones, and an adjustable music stand to hold our scripts while recording. We spend a lot of time in the booth, so we also have the space decorated with special voiceover keepsakes, artwork from animation projects, and sparkly lights for fun and inspiration while we work!
Peter: Tell us about remote-working with Source-Connect
Cassie & Sabrina: Incorporating Source-Connect into our professional home studio has allowed us to level up our business and easily work with clients around the world. Our studio sound has been approved by top recording and sound studios from LA to NY, Toronto, the UK, Malaysia, Australia and beyond! We love how easy it is to connect, and because the technology allows our clients to record the audio on their end, we can solely focus on the performance aspect of our voiceover project! Also, if we ever do have a technical question, the Source Connect support team is always incredibly helpful.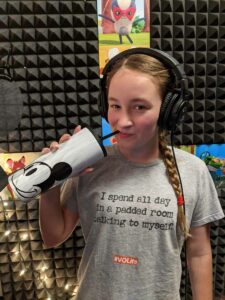 Peter: How has work been for you since the pandemic? How has it changed how things are done? 
Cassie & Sabrina: We were fortunate to stay extremely busy with voiceover work throughout the pandemic. Prior to the pandemic we were very practiced in the booth and extremely comfortable recording remotely. So, when the huge shift in the voiceover industry occurred, we were ready! Our experience and professional home studio set-up combined with our ability to offer clients high-quality audio via Source Connect made it possible. Now that remote records have been widely proven and successful throughout the industry, we find that many more clients are open to talent regardless of geographic location and are more flexible about requiring talent to travel to a local studio. For us, it has been a positive for our voiceover business.
Peter: Do you have advice for anyone starting out?
Cassie & Sabrina: Our best advice for anyone starting out in the voiceover industry is to get some coaching! If you are just starting, take an introductory voiceover class and see if it is something you truly love because it is a lot of hard work. If you do want to pursue VO, invest in professional voiceover training to give yourself the best chance to succeed. We suggest working with different coaches (it is always great to get new perspectives and feedback as it prepares you for working with various clients in the booth). Taking private coaching is a great way to develop your expertise but working in group lessons allows you to hear and learn from others too. Both are valuable!
Also to remember, there isn't just one path to success in the voiceover business. We have earned VO work through talent agents, production houses, independent animation studios, online casting forums, social media networking, referrals, and direct marketing. The voiceover industry is extremely competitive, but if you are willing to do the work, there is a place for everyone in the business. Keep training, keep trying, and don't give up!
Peter: What's something you learned the hard way that you wish you'd known when you started?
Cassie & Sabrina: One important lesson we have learned about voiceover over the years is that not booking a role doesn't mean that you aren't talented. In other competitive pursuits the outcome is more predictable (like, the person with the highest-ranking, fastest time, best score, etc… wins). However, voiceover is a creative endeavor with so many factors involved in the casting and decision-making process. So not getting a role doesn't mean that your audition wasn't great, or you aren't skilled, it might just mean someone else's tone, voice, or background was a better fit for the role.
Peter: What's your perspective on gender and diversity in the industry at the moment?
Cassie & Sabrina: We are in support of all voices in the industry – there is room for everyone. We think anytime you get to hear different voices, new stories, and unique perspectives – the world becomes a whole lot more interesting! 
More info about Glow Girls:
https://glowgirlskidvoiceover.com
Follow them: https://www.instagram.com/glowgirlsvo/