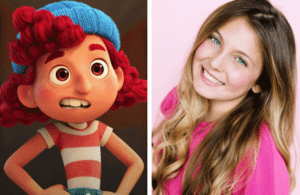 You know how some people just seem to be born to entertain? That's Emma Berman, for sure. Emma is a bilingual actress (both stage and voice) who also plays guitar, draws, loves cooking, and being a part of the Bay Area professional theatre scene. You've most likely heard her voice in Pixar's Luca, or coming out of a Leapfrog, Spin Master or Playmates toy, and we're sure to hear her voice for many years to come. 
Peter: Tell us about how you entered this crazy profession! I understand you've pretty much always been a theatre kid?
Emma: I started off being interested in acting through theater productions at my elementary school so I asked my mom to sign me up for more musical theater after which I started applying to community theater auditions and getting parts to perform locally on stage since I was 8 year old. When I was 9, I attended an acting class in San Francisco where I was scouted by STARS, the talent agency, and they booked me my first VO job for Leapfrog. I voiced five more toys for LeapFrog and did a couple toys for Playmates and Spinmaster that same year. In 2019, I got a small part in the animated series Go! Go! Cory Carson! on Netflix. A year later, my agent sent me the audition for Giulia in Pixar's movie Luca which I ended up booking. Now I am working for two new animated series currently in production. I record both of these projects remotely at my home recording studio.
Peter: Luca is such a great movie! What was the experience of voicing Giulia like? How do you prepare for something like that?
Emma: Voicing for Giulia was the most incredible and fun experience of my life. I am so honored to have had a chance to work with Pixar on this beautiful movie and give my voice to one of their iconic characters. For this particular role, I had to say some words in Italian so I worked with the dialects coach Bettina Devin and also practiced speaking Italian while ordering food at my local Italian restaurant Trattoria da Vittorio in San Francisco.
Luca trailer:
https://youtu.be/mYfJxlgR2jw
Peter: What kind of setup do you use for recording at home?
Emma: In my home recording studio, I have a Steinberg interface, Neumann TLM 103 Mic, Sony Dynamic stereo headphones MDR-7506 and my macbook air (version 10.12.6 OS Sierra laptop). I use the Audacity software to record on my end and for one of the projects I'm working on, I get an invite to join via Source-Connect prior to my session so the client patches me in that way to record on their end. For the other project, the engineer directly connects to my mac where I record on Audacity and they can obtain the files from there directly.
Peter: Tell us about remote-working with Source-Connect
Emma: Working with Source-Connect is super easy. I just click on the link the client sends me and they take it from there. I have the sessions on a weekly basis and we have been recording for about 6 months now through Source-Connect and it's been going pretty smoothly.
Peter: How has work been for you since the pandemic? How has it changed how things are done for you?
Emma: Since the pandemic, I have been able to audition for projects at home which is very convenient. Before the pandemic, I used the standard i-phone app on my phone to record my auditions, but I think the industry moved to working remotely now as a new standard so it became expected of voice over actors to have a good setup at home. Workwise, it has been really great to be able to do it from home because I can just go into my studio right after school and be done with the job in a few hours without leaving my home. I love going into the professional studios to record in person, but there are definitely certain advantages working from home like zero commute or recording in my pj pants.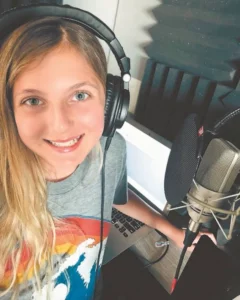 Peter: Do you have advice for anyone starting out? What's something you learned the hard way that you wish you'd known when you started?
Emma: I think that doing community theater is a great start and taking classes and training is also very important. There are a ton of classes available online for voiceover like Real Voice LA, their classes are super fun and affordable. I can't think of any great challenges I have encountered on my journey. I have to say that I have been very fortunate to have supportive parents and great coaches who helped me gain the necessary skills and confidence in my performance and the best agents who present me with all these amazing opportunities.
Peter: What's your perspective on gender and diversity in the industry at the moment? 
Emma: It's great to see a very wide range of diversity in the projects I am working on with actors of all genders, ages and cultural backgrounds, but in terms of speaking about the industry as a general, I would need more education on the specific numbers so I can form an educated opinion on where the industry stands as a whole.
More about Emma Berman: