Here is Dalia Ramahi answering our questions today: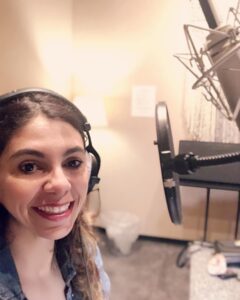 Let's start with some ice breaking quick questions
What's your favorite book?
The Alchemist – Paulo Coelho 
Both. I was always a PC user. I decided to get a Mac a couple of months ago and I absolutely love it for voice over. Can't give up my PC though.
What was the last software or hardware you purchased?
Ableton, I used to produce music back in the day so I recently started getting back into it!
Do you play any musical instrument?
Not really anymore.. I used to play piano, violin, and guitar.
What's your favorite Digital Audio Workstation for editing sound?
For voiceover work, I use Adobe Audition and Izotope RX
This holiday: beaches or mountains?
Beach for sure.
So what's your preferred weekend?
Hanging out with my family and friends, playing outside, and watching movies
Career Path & Insights 
Northern VA/Washington D.C.
How did you start in the industry? 
My twin sister and I always wanted to get into voice over, so one day I found an intro to voice over class by coincidence, and we signed up. The night of the class my sister couldn't make it, so I went by myself and just loved it. I decided that night to take action so I started training and learning all I could. I was working as a finance specialist in the corporate world at that time. I took lots of voice over classes, one on one coaching in audiobooks, commercials, animation/games, and specifically acting, learning the Meisner Technique. I am non-union but I very much believe in and support unions so if I get the opportunity to join SAG-AFTRA, I will. I do have agents and I feel they are important. They do so much hard work to get the big projects that would be very difficult for us to get as individual voice actors. That said, I also believe in doing what I can to grow my client base through my own marketing efforts.
Current projects you have at the moment that you can tell!
I am a freelance voice actress and I am also a teacher. Right now, I'm narrating an audiobook. I just recorded a new character for a major video game, and am doing on-going work for an e-learning client.
Could you tell us some of the projects you enjoyed the most? 
A project that really stands out for me is getting to narrate The Tale of Princess Fatima Warrior Woman, an old Arabic epic translated into English by Melanie Magidow through Penguin Random House. It's such a powerful tale that challenges the stereotypes that the world has of Arabs and Muslims when it comes to gender roles.
What makes you a great VO artist/studio?
I believe that learning never stops. We can either choose to be green and growing or ripe and rotting. I strive to keep learning. I don't take my knowledge, opportunities, or skills that I have developed for granted. I am willing to try different approaches to achieve better results. Innovation is important and necessary for success. My goal is to apply what I learn, help others where I can, and work to be a little bit better each day. I just want to spread joy, and right now the best way I can do that is through my work and commitments to my clients.
As for my studio, I am wayyyyyyyy proud of it. Do you know how many years of refining it, learning, trial and error I had to go through to get it right? It's always a work in progress too but I'm super proud of my remote home studio. 
Which part of your job do you most enjoy?
No doubt it's booking the work and getting it recorded. I love love love it, especially whenever I get to do live directed sessions. I get even more excited when I get booked to go out to an outside recording studio. It feels like a field trip haha. Really though, I just love the collaboration process and getting to connect with others in real time. When I'm recording in a live session, my adrenaline is pumping and I feel such a high.
Which is the thing you enjoy learning more?
I love learning about different acting techniques to help my performance but also the tech aspect of VO since that's where my biggest learning curve usually is.
How do you think learning in this industry has changed?
COVID made remote learning accessible to everyone worldwide. I get to work with coaches now that have only ever offered in person classes in Los Angeles prior to Covid.
Home Studio for remote recording – Let's get nerdy about techie stuff! 
Do you have your own studio? Could you tell us what setup, tech & hardware it consists of? How did you build it? Which kind of interface, DAW, setup, mic, headphones, speakers…
I have my own remote studio. As I mentioned, I'm very grateful and happy with my remote set up. Every year, I'm learning new things and adding or changing things up as needed. I have a custom-made sound treated vocal booth. My main mic is a Sennheiser 416. I just upgraded my interface from a Scarlett Focusrite 2i2 to a SSL2 and I love it. I use Adobe Audition and RX 7 for audio recording and editing. I have a pair of Sennheiser HD 280 pro headphones and presonus monitors in my booth. I have some back problems so getting a wobble stool has been a huge help when I have to sit and record for longer periods of time.
Which kind of services do you offer with your studio?
I offer voice over services for commercials, long/short form narration like audiobooks, e-learning, audio dramas, guided meditations, explainers, and more. I also do character voices for video games, ADR/Dubbing, animation. I also offer coaching for actors that need help with Middle Eastern accents or Arabic pronunciations. I offer creative/copywriting services, and proofing.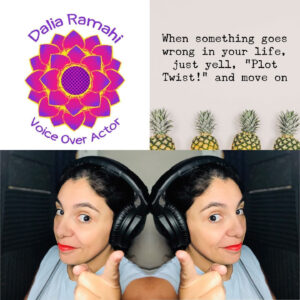 Remote working with Source-Connect  
How has the pandemic been for you work wise?
Things were quiet for me during the pandemic. I didn't have a really good work flow or system in place so things kind of grinded to a halt. I used that time to work on developing my skills and learning as much as I could. The minute the world opened up, I started getting more work again thankfully.
What percentage of your work is remote now?
Most of my work is remote. Occasionally I get booked into an outside studio.
When did you start with Source-Connect? What has been your favourite recording session with Source-Connect? Could you tell us some of the benefits of having remote collaboration tools? Tell us a lot!
I first started using Source-Connect back in 2018, I didn't have that many sessions back then but since Covid, it became a necessity, especially for work that my agents were sending. Getting Source-Connect was a game changer. It's so easy to login and connect with a client. I recently did a big video game over Source-Connect and it was such a smooth session. What I love is that the clients could monitor my peaks and I could easily see when I needed to adjust the gain for the louder lines. The sound quality was clear and I didn't have to worry about any lag time.
Are you Source-Connect certified? If so, what made you decide to get your studio and engineer(s) Source-Connect Certified?
I am now certified. I am so grateful that I was selected for the Source Elements scholarship some time ago. I had lots of support from the Source Elements team during set up and certification. I'm so much more confident now using my Source-Connect in sessions. Anyone getting Source-Connect, should consider getting certified. Learning how it works and how to troubleshoot only makes it easier for your clients if there an issue comes up during a session.
How do you see working with remote tools in post-pandemic times?
It's a necessity and it's not going away. I know some studios have gone back to in person recording but for the majority, the accessibility and ease of remote recording is a win-win.
What is your favourite thing about remote recording?
My favorite thing about remote recording is being able to record with clients anywhere in the world.
Are remote collaboration tools here to stay?
Yes. Just think about how much remote collaboration tools have improved just in the time since the beginning of the pandemic in 2020.
Industry, Diversity, Equity and Inclusion – 
What's your perspective on diversity, equity and inclusion in the industry at the moment?
DEI is so important for authentic storytelling. There have definitely been positive movements towards inclusion and representation in casting but we still have a long way to go. We need to strive to have more diversity within key decision-making roles, not just at the actor level. A big part of this work is being done behind the scenes by people like Edward Hong who is the creator of the PGM VO List. His work is crucial in educating key stakeholders within the entertainment industry about the importance of DEI and authentic representation. PGM stands for People of Global Majority. Thankfully, the days where majority white voice actors were hired to do stereotypical or cartoonish versions of accents from people of the global majority are gone, especially as we become more culturally aware of how harmful that can be.
What's the future of the industry looking like from your perspective?
A.I. artificial intelligence is where we are headed but I find that exciting. There's no point in resisting it. We can't stop the future from happening now so we might as well adapt and become a player to guide it in a way that doesn't harm voice actors. I don't necessarily see it as taking away opportunities but it'll be more important to do our due diligence to understand how our voices will be used going forward.
Advice to other VO artists/sound engineers/people in the industry:
Most people genuinely are rooting for you to succeed not fail. Just go for it and have fun doing the work. It's all working for you, even the parts that seem like they don't 😉
What advice would you pass on to someone who's trying this sort of remote workflow out for the first time?
Trial and error. Learning by doing is a huge part of working remotely. Ask for help, learn from others, and be willing to seek out the information you need. There are lots of support groups, resources, and tools to help you with your remote workflow.
What would you say is your recipe for success?
My recipe for success is that I don't cook. Haha dad joke I know. Anyway, the key is to have fun. Make work fun and find a way to enjoy all of it. Work can feel like work or it can feel like play. It's always a choice, and that choice is yours.
What would be the thing you would most like our listeners to take away from this interview?
I'm just like you. I had to learn the hard way until I could learn the easy way. It took me a long time to get to this point but it's because as hard as it seemed at times, I never gave up. If you strive just a little each day, you'll get to where you are meant to be eventually.
Don't forget to say goodbye!
Thanks so much for this opportunity. I had fun sharing a little about myself with you all. I'd love to connect with you.
Dalia Ramahi
Linkedin https://www.linkedin.com/in/dalia-ramahi/
Twitter @DaliaRamahi
Instagram @dalia_ramahi_vo