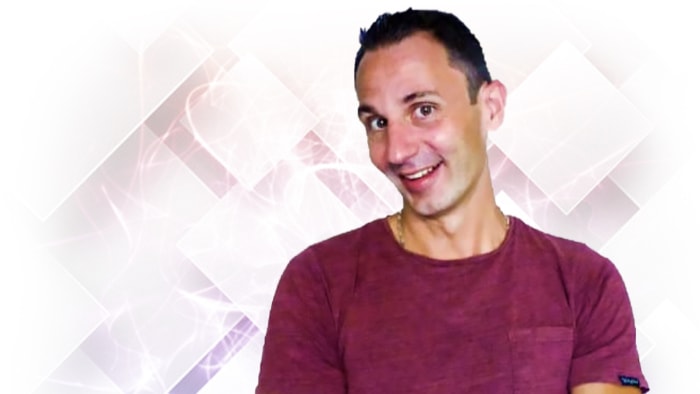 Aurélien Nancel's voice has been a part of the fabric of French media for over 25 years: first in theatre then in radio, and now as a prominent voice actor with a killer studio setup. In that time he's gone from 56k modem to optical fibre, from Cool Edit Pro to a state-of-the-art modern studio. Oh and the studio happens to be in paradise.
Peter: I think everyone reading this is a bit of a gear geek, and a lot of us have some sort of home studio whether they're professional or not. Obviously you're a pro: what is your studio setup like?
Aurélien: I have a fully soundproofed room dedicated to my voice-over recordings. Many of my colleagues have a voiceover booth. I chose to use a whole voiceover room! More comfortable, spacious and fully equipped with professional equipment: Rode microphone, Focusrite sound card, a powerful PC that can work on my voice-over recordings on 4K video (but usually the videos are sent to me in HD format).
Peter: What's an average work-day like for you as a voice actor?
Aurélien: As a voiceover artist, I start my day by checking my emails. I handle the most urgent requests first. Then I send out all the quotes requested overnight. I have a very clear and optimised organisation in my work. Then, the type of work depends on the request. I can record eLearnings in the morning, corporate videos in the afternoon, TV commercials and connect with Source-Connect. Not all my days are the same.
Peter: How did you first realise you had the talent for voice acting?
Aurélien: I became aware of my voice and my passion for this profession in 1994 when I started in FM radio. I was a radio host and very quickly, I participated in the editing of commercials spots for the radio station, and for which I also recorded my voice.
Peter: What do you do to take care of your voice?
Aurélien: I am lucky to be able to work well in the voice business. All these years in France allowed me to leave and settle in Spain in the Canary Islands from where I continue to work with all my clients over the world.
Peter: Oh that must be beautiful!
Aurélien: So it is very easy for me to take care of my voice in such a wonderful place! Sun and palm trees every day. It's like being on vacation and it soothes my mind and my voice. It is true that some periods are harder than others, and my voice can suffer. First, I take a break, I drink water and apple juice… but my voice has been trained for 25 years now…
Peter: Source-Connect must be very useful in the Canary Islands then!
Aurélien: Source Connect is an important working tool for me and has become indispensable! The health crisis has pushed the voiceover industry to turn to us 'home studio voiceovers' …I think the term seems to be evolving into Voice Studio… whatever the case, Source-Elements has long known that the future of the audio-visual industry would be digital and on the internet. The market is evolving so fast that some projects need professionals who can react quickly to their work, and that's what Source-Connect allows me to do. With two clicks of the mouse I can connect to any studio in the world that has Source-Connect. The number of Source-Connect users is gigantic! The connection is of excellent quality. My clients use my voice-over recording services for TV commercials, eLearnings and corporate videos that need my French voice. Source-Connect meets the exacting quality requirements of our industry with proven efficiency.
Peter: Do you have hobbies and interests outside of your work?
Aurélien: Outside of work, my interests are my family, my friends, and the people I see every day in my town (shopkeepers, local businesses) and I also often chat with tourists who come to visit the island.
I also record and produce podcasts 'Les Histoires Sombres' with Valerie MARINELLI a good friend and voice-over artist. A new episode is released every Thursday at 5pm (French time), available on all the usual listening platforms [laughing]
More about Aurélien: