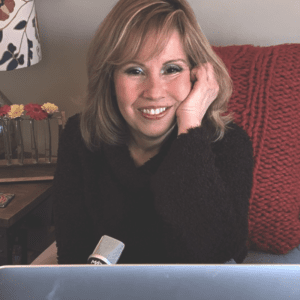 Angelines Santana is a Mexico-born, Los Angeles-based voice actor who has worked in everything from classic anime (Magic Night Rayearth) to audiobooks (The Handmaid's Tale, Los Detectives Salvajes) and a whole lot of film and radio. Angelines clearly loves her job and the places it takes her, as you'll read in this interview between Melbourne and LA.
Peter: Hello! How you doing?
Angelines: So nice to meet you! I love Australia!
Peter: Yes! I saw the photo you sent me from when you were in Brisbane.
Angelines: Yes. I had the pleasure of being in Brisbane on a beautiful and unexpected trip. I always wanted to go to Australia, and that was a gig that I got a call for for the next day and before I realized I was on a plane to Australia to work. I didn't even have time to process it!
Peter: What job was that?
Angelines: I was working as an ear prompter for a star who was doing a commercial campaign for a big telecom company. They needed somebody with acting experience and whatnot. And I knew somebody who somebody, so in 24 hours I was on a plane! And then I got the chance to stay there and play for five days. Beautiful, beautiful place.
Peter: I'm in Melbourne but Brisbane is nice
Angelines: I didn't have the chance to go to see Melbourne but I did take a train, got lost and ended up in the Gold Coast! I went to the zoo and it was just beautiful.
Peter: Love the Gold Coast. It's amazing how those work opportunities can pop up from a connection through a connection. There's no class to teach you how to network. Sometimes you just have a drink with someone at a conference and then they refer you for a job!
Angelines: Exactly. It's just a matter of time when you've been in this industry for so long. Everybody's always moving, but we all stay in the same circle.
Peter: I've been looking at your work online and you seem to do so, so much! How do you define your job?
Angelines: What I been doing lately in Los Angeles and for the past 20-something years is I focus on my voice. I'm an actress and I always worked in theater. I guess out of all of my acting experience, what I love the most is doing theater because I love working with people in front of the audience. There's nothing like a live audience, but the next best thing that I found was working with my voice. When I came to the States to live, the work that they were offering was dubbing, and it was a lot because this was when HBO started to dub a lot of content. It was fantastic. I did a lot of dubbing from English to Spanish and some movies that were from Spanish into English, when they require an accent, and I love doing that as well. So I see myself as a complete actress, but lately I love working with my voice.
Peter: I see that you do audio books as well. Tell me about the challenges of that.
Angelines: It's hard. It's hard doing audiobooks. I like it but it's very tedious because it takes a lot of focusing, especially when you have a lot of characters in one book and you have to really concentrate, you have to focus, when you are separating your character from the narrator and you get tired.
Peter: How, how long does it take you? I mean, I'm sure it's not just reading the book start to finish and you're done.
Angelines: It depends on the book, but one finished finished hour might take two to three hours to record, depending on the inflections. And it depends how tired you are, the clients that you have, or if you misread one word, you know, you have to just retake it again. So it's elaborated. Dubbing is the same, because when you're doing a movie in another language, you usually do it little by little. You might do only ten seconds at a time, so imagine you have to do a whole movie, ten seconds then 10 seconds then 10 seconds. You have to be very, very focused on what you're doing.
Peter: So how do you, how do you use Source-Connect in your work?
Angelines: Especially this year that we have to learn completely how to use it and manage it. I love technology. If you were to tell me twenty-five years ago that I was going to be dubbing from my home studio for movies I would laugh, I would say, "Where did you get that from? Too futuristic form for me, dubbing from home by 2020!" And even before Covid we were trying different platforms, but of course the pandemic came and and everybody was learning how to use Source-Connect. So it's been awesome. The customer support… I love you guys! I can use Source-Connect for dubbing and radio or TV spots.
Peter: What do you use to record?
Angelines: My microphone is a wonderful Gefell M930, which is like a mix of a Sennheiser and a Neumann. And then I have my Scarlet interface for my computer, and my amazing homemade studio that I love, my booth.
Peter: Tell me about your booth. How did you make it? Almost everyone I've talked to has that little booth at home now, whether it's a spare room, a walk-in closet, a little cottage in the yard…
Angelines: Mine is my closet as well! We turned it into booth. So we happened to have this studio and there was an empty closet so it worked out perfect. We've got the sound panels to deaden the sound, and we laid in all the cables to the interface.
Peter: So how did you get started in this industry? I guess it was through the acting and it kind of went from there?
Angelines: Yes, exactly. I started very young in my native Mexico. I'm from Mexico City. So when I came to the States, I saw the market for Spanish speaking announcers and it was sort of organic, like everything. It took time for the ball to get rolling. Back in the 90s you used to find a job in the newspaper and send your tape, you know, label it…
Peter: What were some of the first voice jobs you did?
Angelines: It's so funny. When I got to LA, I started to dub right away. I started to do HBO content and cartoons that became really popular all over Latin America. And then I did my first radio spot. It was a perfume and it's so funny because they recorded me we realized that we were on the same commercial!
Peter: That's amazing!
Angelines: Then I did little campaigns here and there, books and then e-learners, you know, the little computers that talk.That's something that I liked doing a lot too. I love working for kids because you get to play with your voice characters. It's a lot of fun because you really get to workshop your skills as an actress and just let your imagination fly like a little kid.
Peter: So what's next for you?
Angelines: I'm working on a reunion of one of the cartoons that we did 25 years ago that became really popular, Magic Knight Rayearth. We got most of the cast and 90% of the guests back together and to produce a really nice anime-style show which talks a little bit about all us, the work career of dubbing actors, and I'm the hostess. So that, that gets me real excited. And I'm about to direct a dubbing movie and I'm enjoying, I'm enjoying that a lot.
Peter: Ooh, tell me more about that.
Angelines: There is this movie that is called The Last Champion and they're going to dub it into Spanish here in Los Angeles. And so I'm going to be directing it.
Peter: That's amazing!
Angelines: Very happy, very pleased. So that's what I'm working on.
Peter: That all sounds like so much fun.
Angelines:  Have you ever been here to Los Angeles?
Peter: I love Los Angeles. I usually go there for the NAMM show every January and I typically spend an extra week or so just hanging around town, catching up with friends. I might go down to San Diego or up to San Francisco for a couple of days, but I love to say on the Sunset Strip in West Hollywood so I'm close to the Rainbow Bar & Grill and the Comedy Store. I love it. It's so much fun there!
Angelines: Oh me too! I really love LA. I think it's a fascinating, full of beauty. The diversity here is amazing. The showbusiness people from all over the world, everybody will end up in Los Angeles. So yeah. I love it. When you come over for NAMM again, make sure that you send me an email so we can catch up!
Peter: Absolutely. Yeah, that'd be great. Well, thanks so much for your time. This has been really fun.
Angelines: Thank you so much as well. I'm so glad we were able to talk. This was Lovely. Thank you.
More info about Angelines: