Here is Andy Chadwick answering our questions today: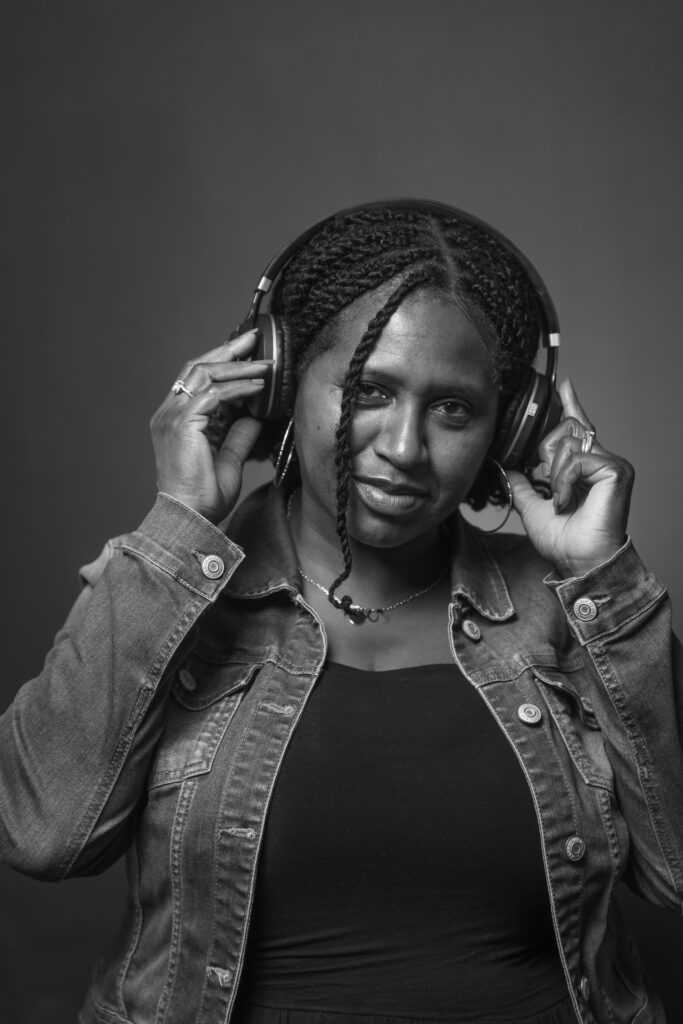 Let's start with some ice breaking quick questions
– Mac or PC user?
PC
– Do you play any musical instrument?
Piano
– What's your favorite Digital Audio Workstation for editing sound?
Audacity
– What are your top 3 favorite music bands?
Chicago, Earth Wind and Fire, U2
– Most recent concert post covid times?
Jennifer Lopez – 2019 !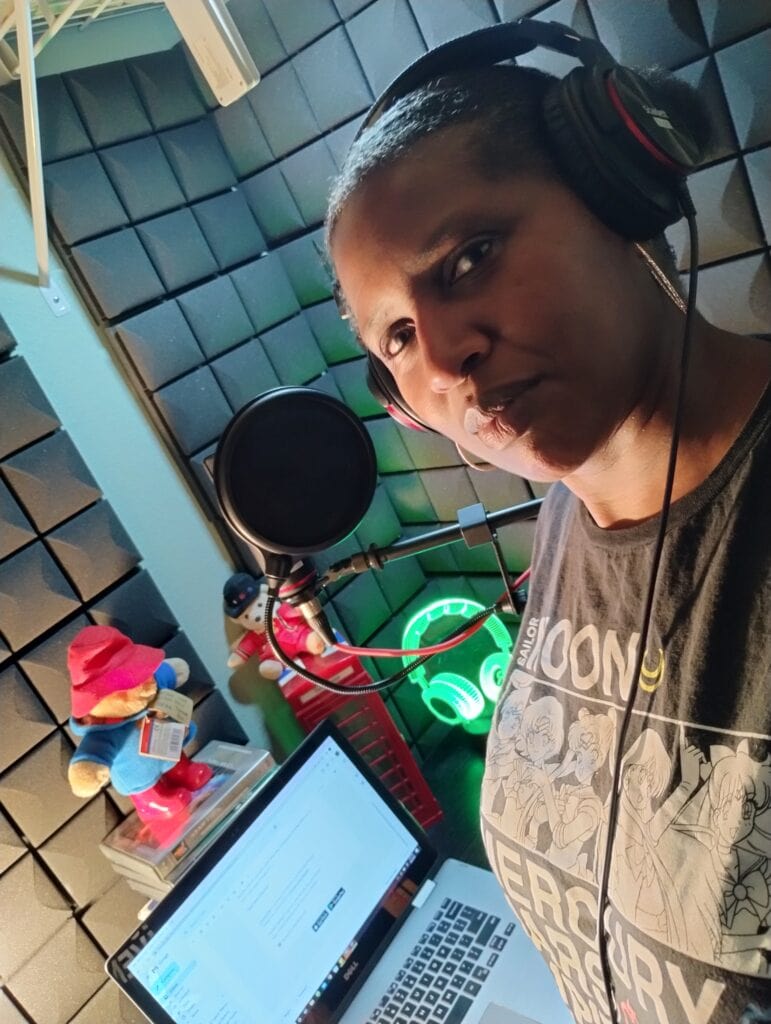 Career Path & Insights
– Where are you based? 
Florida
– How did you start in the industry? 
I started about 25-30 years ago initially and was getting involved with some unpaid work at first, then around 2018-2019 I decided to pursue it again and did some re-training and started more actively working on it. During the pandemic is when everything transpired and came back!
– Tell us about your education!
I went to a Coaching school for VO and attended one of their workshops. Some of my main takeaways were that it's actually a lot of work! Everybody thinks it's just about a voice but there is a lot more to it. The business aspect is a big part and isn't stressed enough. A lot of engineering and training in other skill sets as well. You become an engineer, essentially. On the business side, marketing and knowing your brand is also important. So yeah, no necessarily all about your voice.
– Current projects you have at the moment that you can tell
Lots of auditions at the moment!
– Could you tell us some of the projects you enjoyed the most? 
Everything that I do is enjoyable and a learning experience, I take something from every project I get to work on. I thought I'd be doing a lot of audio books but I'm actually been doing a lot more commercial gigs lately. The more you do the more you find your niche. Everything is a learning experience and the right things start to follow you I think.
– What makes you a great VO artist/studio? 
I think you have to love the industry and love the craft. You have to work very hard and I don't think everyone understands the whole process.. working, training, connecting. One thing is everybody in the community has been so welcoming, just wanting to help and willing to share knowledge.
Home Studio for remote recording – Let's get nerdy about techie stuff!
– Do you have your own studio? Could you tell us what setup, tech & hardware it consists of? How did you build it? Which kind of interface, DAW, setup, mic, headphones, speakers…
I'm in a closet (haha) with soundproofing, PC laptop, Focusrite 2i2 with the Studio MK111 package including mic and pop filter. Eventually I'll upgrade but the package is good for me now. Got my eye on a shotgun mic.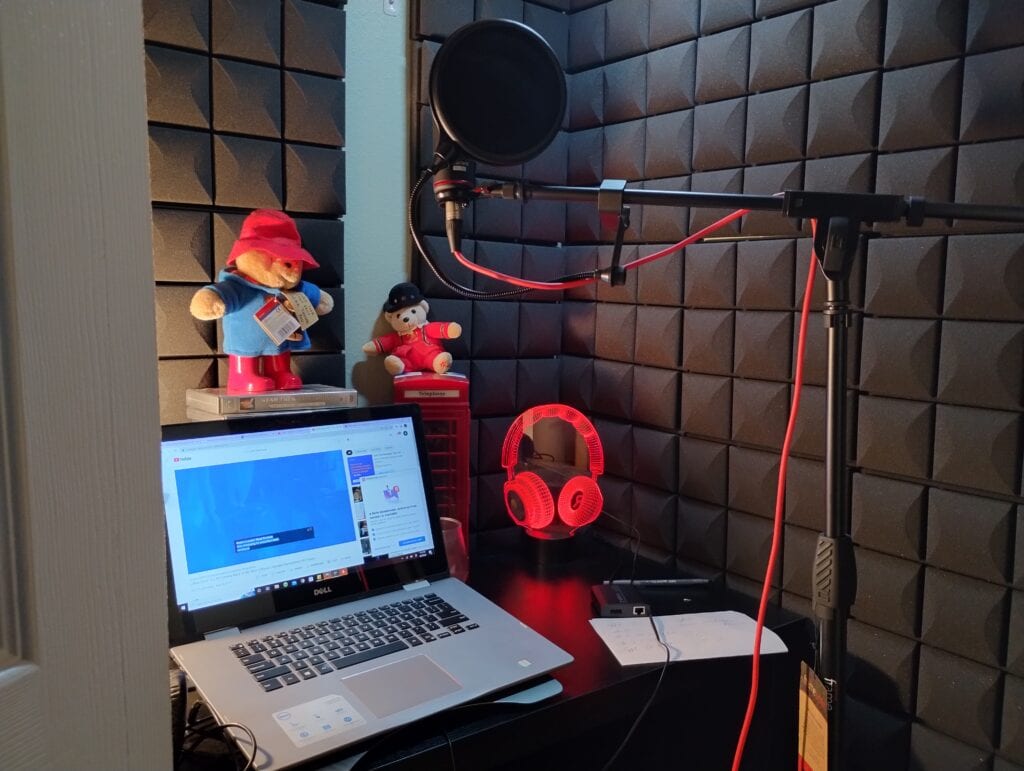 Remote working with Source-Connect
– How has the pandemic been for you work wise? 
It gave me time to really learn and invest in myself and allowed me to have the time to invest in new skills. For instance, learning the tech and how to edit/engineer has opened the door for working remotely for a lot of voice actors that weren't able to get into the industry. It's been a great learning experience. 
– What percentage of your work is remote now? 
100% remote.
– Are you Source-Connect certified? If so, what made you decide to get your studio Source-Connect Certified?
Yes I'm Source-Connect Certified!
I really enjoyed the course, it was a great process, if you have Source-Connect and can do the certification I'd say it's definitely good to have. I wanted to feel prepared for technical issues that may crop us and feel confident testing with other colleagues.
– How do you see working with remote tools in post-pandemic times?
I think it's here to stay. Obviously there are always going to be jobs that you have to go to the studio for but most of them can now be done remotely. 
– What challenges have you faced when working remotely?
A challenge was the engineering part. Just learning to edit and trying to figure out how it's supposed to sound. Having a good ear for that sort of thing. 
Industry, Diversity, Equity and Inclusion
– How would you describe the media industry? And more specifically, tell us about your experience in the industry
My experience thus far has been very positive, it's a journey and I'm trying to enjoy every part of this journey. I'm non-union and have a talent manager and I've learned networking is key. Know your colleagues, know your fellow voice actors, know your agents. I try to follow up and get as much info and understand who these individuals are and understand and engage with everyone on a human level. And lastly, just to respect the industry and know what it's all about and come in with a good attitude. 
– What's your perspective on diversity, equity and inclusion in the industry at the moment?
I'm from London originally, and what I'm seeing is there are now more opportunities then there were 20 or 30 years ago. But I think there are opportunities for everybody if you're willing to work. There is no negative thought process for me, it's a great experience and if you're willing to work it's there. You just have to go for it!
– How would you describe your job to those who know the industry well?
A voice actor is somebody who can convey a story and a feeling. To establish an image through voice. Pretty much like music, voice has always been a thing for me. It's universal, it doesn't matter what language you speak, voice is universal and you've conveying something to someone and to paint a picture, a story. 
– What sort of personal qualities do you think are best suited to your job?
You have to have passion, you have to be able to convey that feeling, You have to have patience as well as talent and skill. But it all comes with training and coaching and potting in the work. And most importantly you have to love what you do, love the industry and love the individuals around you. 
Don't forget to say goodbye! Is there anything else you would like to share with our readers? 
For anybody who's new, don't be afraid to reach out, to learn, there are so many avenues that are free. Don't be afraid! 
Also, have the info ahead of time and prepare and know it's hard work as well.
Oh and lastly, congratulations for winning One Voice Source Elements!
More about Andy Chadwick: